(Auszug aus der Pressemitteilung)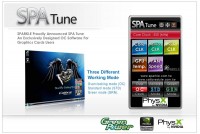 Taipei, Taiwan – November 6, 2008 – SPARKLE Computer Co., Ltd., the professional VGA card manufacturer and supplier, today proudly announced SPA Tune, an exclusively designed OC software for users which will effectively balance the computing power and power consumption of Graphics Cards from SPARKLE.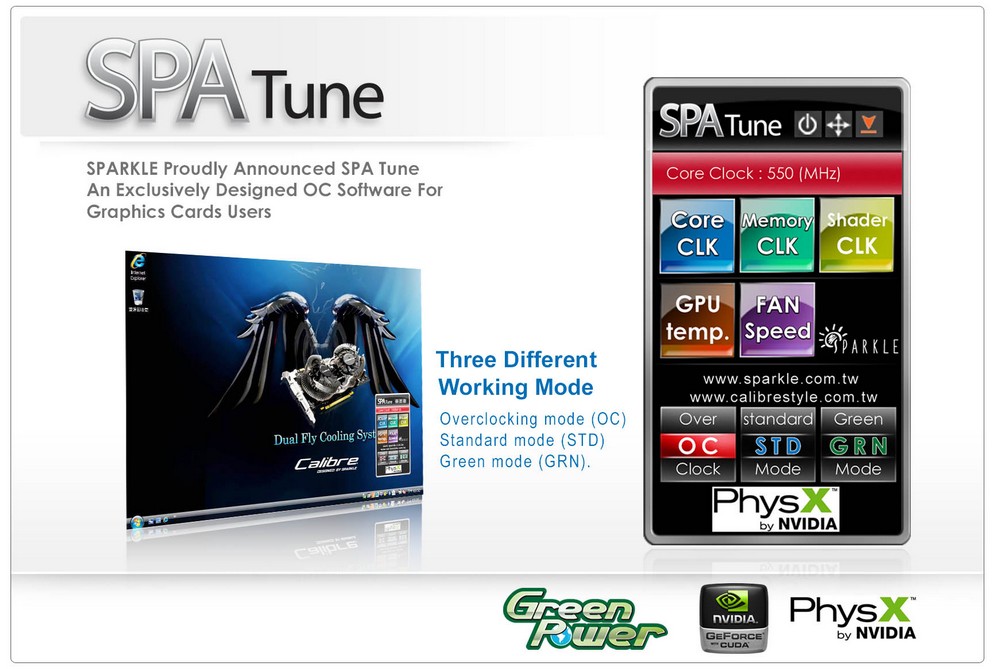 Exclusively Designed OC Software
SPA Tune software is designed by intelligent R&D team of SPARKLE. It's integrated the gorgeous
user interface with the formidable graphics cards regulation functions. Now users of SPARKLE
Graphics Cards have the powerful tool for getting superlative graphics performance in latest DX10
games and best energy saving effects in 2D operating mode.
All-functions Design
Graphics Cards users want blazing fast performance—blasting their way through the latest
game, but they also being the environmentalists who want to economize the energy when they
are doing 2D works with graphics cards. Now with strong R&D team from SPARKLE, SPA Tune
software can meet the bilateral demands. SPA Tune will help the users optimized the
configuration of power supply and select the appropriate mode to economize the energy.
Smart and Convenient Operating Interface
SPA Tune software is designed with smart and convenient operating interface. It provides 5
compact designed control buttons for graphics cards core clock, memory clock, shader clock,
GPU temperature and fan speed. With just simple click on one of these buttons, SPA Tune
software will show the exact value in the display Area. SPA Tune software also provides three
mode transition buttons for Overclocking mode (OC), standard mode (STD) and green mode
(GRN).
Three Different Working Mode
With the OC mode, SPA Tune software will provide high speed, best performance and more
power consumption. When users choose the OC MODE, graphics cards will runs at the fastest
clock and keep the strongest performance to meet the needs of DX10 games. The STD mode
brings standard performance and lesser power consumption. When users choose the STD mode,
graphics card will runs at the standard clock ,whatever you open websites or enjoy the Blu-ray
DVD or playing games it's all OK!! The GRN mode provides the energy saving and green power
consumption. When users choose the GRN mode, graphics cards will consume the least power.
The cooling fan of the graphics card will has the lowest speed and has silence noise .
Bundled With Latest Graphics Cards
SPA Tune software will be bundled with latest graphics cards products from SPARKLE. SPA
Tune software endows graphics cards from SPARKLE with valuable add-on and convenient
functions.