(Auszug aus der Pressemitteilung)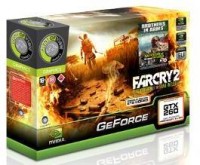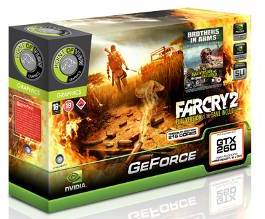 POINT OF VIEW, well known for its range of NVIDIA based Graphics cards, is announcing today the release of a new Special Edition duo game bundle of Far Cry 2 and Brother in Arms: Hell's Highway.
Ubisoft is known for its incredibly immersive games. Games with a natural and exciting game play, top quality graphics, perfect voice acting and not to forget: a story line that puts most movies to shame! It's no doubt that Ubisoft is one of the most innovating game developers on the planet. In 2004, they shocked the world with Far Cry. Graphics that were uncanny for its time, combined with a smooth game play and cool story line.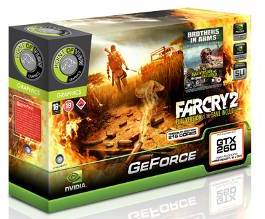 Anno 2008, Ubisoft takes this to a whole different level. Far Cry 2 is definitely one of the best games of this year.
Explore the realistic African landscape of Far Cry 2 that spans over 50 km². The extensive artistic research has spawned a truly next-generation open world with a detail level that is unprecedented in video game history.
Brother in Arms series is one of the most critically acclaimed historically accurate war-sim games. With the latest installment: Hell's Highway, Ubisoft really has raised the bar for this type of games.
The game Brother in Arms: Hell's Highway takes place in 1944, during the liberation of the Netherlands in the Second World War. The game tells the story of Operation Market Garden, the journey from Eindhoven; where Point of View's headquarters is located, to Arnhem. Road 69; the road from Eindhoven to Arnhem was later nicknamed: Hell's Highway.
On of the most impressive details is that the area of Operating Market garden was completely reconstructed by historical documents and images. The authentic feeling when you walk through the Dutch streets of more than 60 years ago is really uncanny. Street signs, building structures, clothing and even the clinker bricks on the roads dispense a true authentic mood.
Furthermore the game is packed with hardcore ragdoll effects, a destroyable covering system and innovative adrenaline effects system. To boost these effects, the game also has native support for the Philips amBX system.
Get the most out of these games with the Point of View 200 Series graphics cards, supporting DirectX 10, Shader model 4.0 and High Definition movie support. The duo bundle will be available with the graphics cards GeForce GTX260 and GTX280. Keep your eyes open for the Special box of this ultimate gaming bundle or contact your POV retailer for more information and availability.
This bundle will be available now in a Special Edition box of Far Cry 2! If you are looking for a new graphics card: Be sure to have to look at this Special Edition duo bundle!!