(Auszug aus der Pressemitteilung)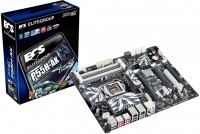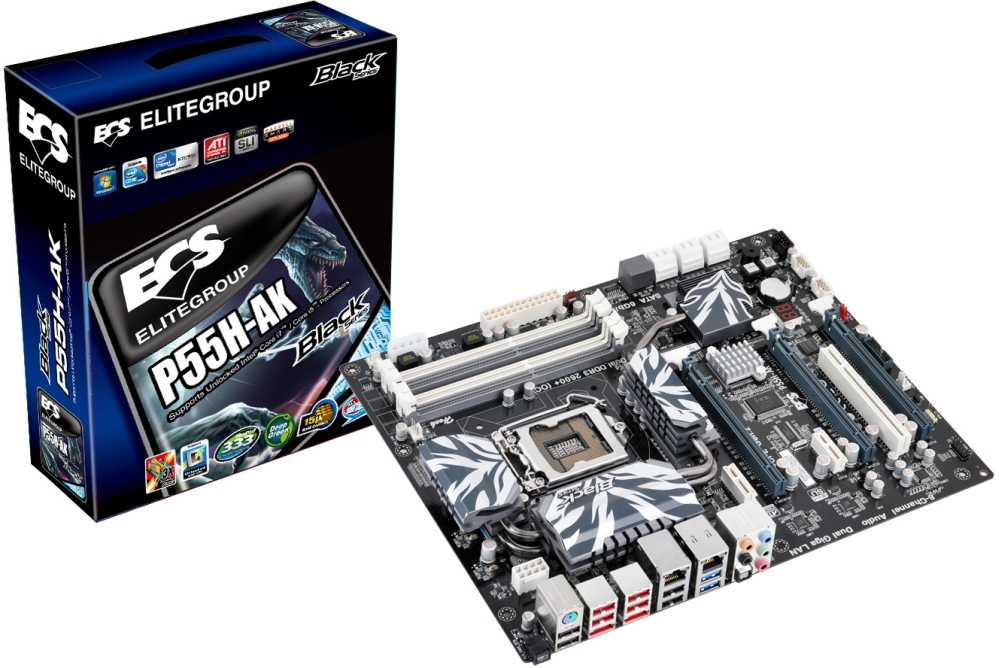 Taipei, Taiwan, Aug 9th, 2010 – ´With innovative products that span multiple target markets, Elitegroup Computer Systems (ECS), the world's leading motherboard, graphics card, barebone system, and notebook manufacturer, announces its latest product – the ECS Black Series P55H-AK motherboard featuring lots of powerful specifications and classic color schemes of black and white.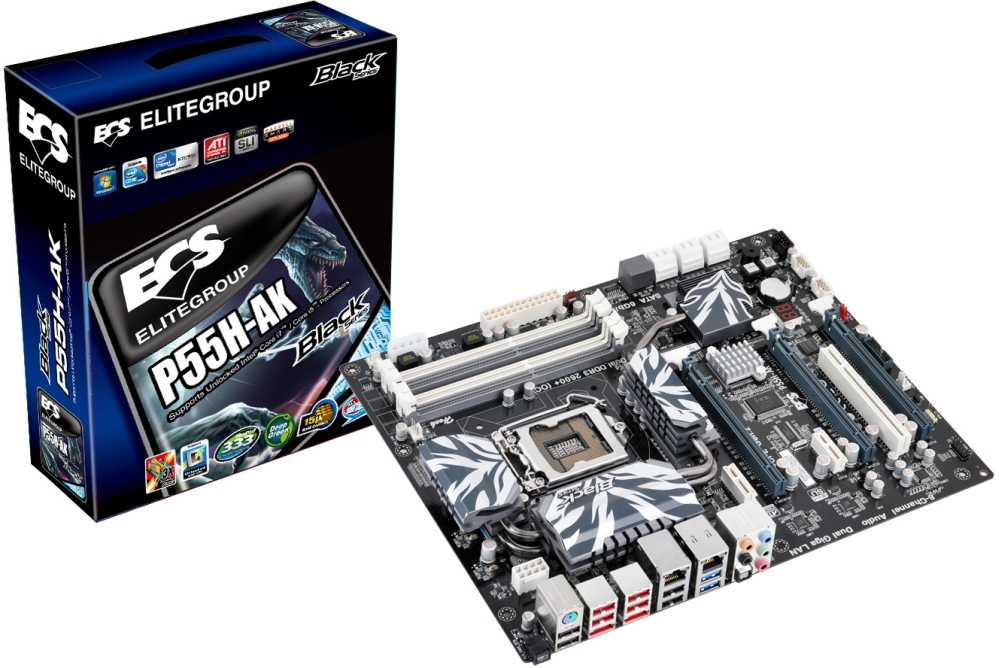 Upgrade Your Force by Overclocking
By conducting quite a few exciting overclocking events during Computex Taipei 2010, ECS has successfully built up a brand-new overclocking standard – 5GHz for Intel's latest Core i-Series K-Sku Unlocked Edition processors with a standard air cooler. That enables every user to boost his/her gaming system up easily by tweaking the ECS's exclusive M.I.B.X (Motherboard Intelligent BIOS) – a special-edition overclocking interface providing the most intelligent and convenient way to adjust the clock/voltage settings of CPU and memory to get the extra performance.
Conquer Your Games with Full Power
The ECS P55H-AK can be a very powerful motherboard for the hardcore gamers. Built-in NVIDIA NF200 chipset which supports 3-way SLI/CrossFire and DDR3-2600+ amazing memory overclocking capabilities to provide more powerful gaming performance in the latest real-time 3D games. Moreover, the SATA 6G and eSATA 6G ports powered by Marvell chipset on ECS's P55H-AK offer double transfer speed than ever in accessing bunch of gaming data like high-quality 3D models, textures and visual effects. The two of four USB 3.0 ports powered by NEC USB 3.0 controller chip on the front panel of P55H-AK is also a user-friendly design to provide 10-times speed in sharing large files. The ECS Qooltech III technology is a dual-heatpipe with unique heatsink designed passive cooler to ensure the stability of system when overclocking and working for a long time.
ECS's exclusive applications such as eOC, eJIFFY, eBLU and eDLU deliver all the conveniences for users who like to extract more performance under system level with safety, as well as the alternative for Internet surfing and keeping BIOS and drivers up-to-date with ease.