(Auszug aus der Pressemitteilung)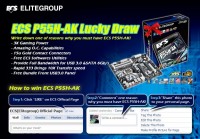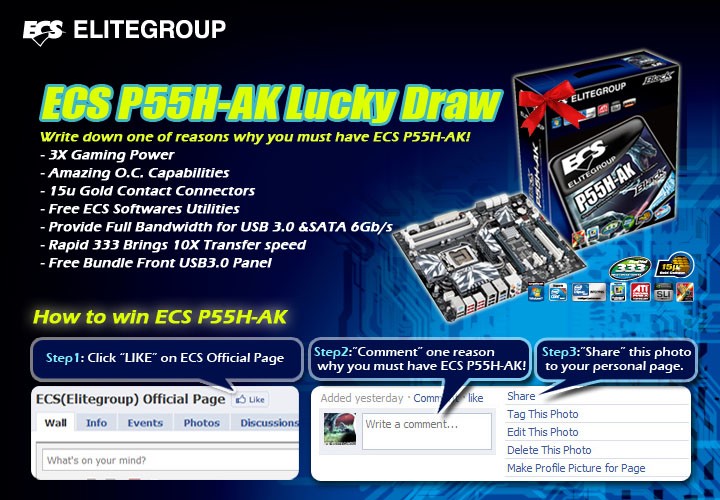 Taipei, Taiwan, September 8, 2010 – Elitegroup Computer Systems (ECS) releases super product of year P55H-AK with distinguishing product specification. Praise rains down when releasing. To express gratitude for ECS fans' support, there will be a lucky draw for all ECS fans with the winner receiving an ECS latest P55H-AK motherboard. ECS holds Facebook campaign "P55H-AK Lucky Draw", just write down one of correct reasons to have P55H-AK, and you will get the chance to take P55H-AK home. Besides, every week we will draw the lucky fans to win Gash points! The earlier you become an ECS Facebook fan, the more chance you will be our winners. Our fans do not miss this great chance.
Being fans of ECS Official Page can not only get the first-hand product information, but also receive the benefits, new product releasing, campaign sharing and etc. for ECS fans only. And, you can have the cutting-edge trends and the latest technologies applications in your hands.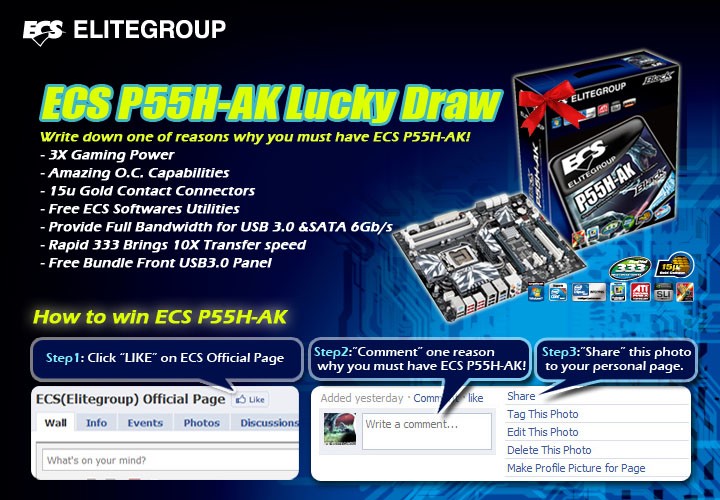 How to get ECS P55H-AK
Being ECS fans on Facebook, and leaving one reason why you must have P55H-AK (Note: The reason you left needs to differ from the previous fan) from September 9 to October 8. Leaving behind the reason, and sharing this campaign picture to your personal wall. Finishing the steps, maybe you will be our winner to get the biggest prize P55H-AK.
In the period of our campaign, we will draw the lucky fans to win GASH points (also can change to other game points, such as Playfish and etc.) every week.
Joining ECS Official Page right now!
ECS P55H-AK Lucky Draw
Period: September 09, 2010 ~ October 08, 2010
Awarded announcement: October 15, 2010
Details: Please visit ECS Official Page on Facebook
Notice:
Winners agree ECS to publish their names for publicity purpose. ECS will have authority to save, use or edit the photos for using in any media.
If needs, ECS reserves to modify the gaming rule that will release on ECS Facebook page and doesn't notify one by one. Other terms and condition not mentioned above depend on ECS.
ECS employees are not qualified to be awarded.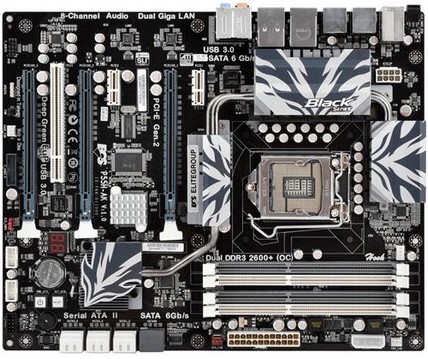 ECS Ultimate Gaming motherboard P55H-AK
ECS P55H-AK is ECS most high-end motherboard designed for Intel LGA1156 K series unlock CPU to reach the optimum system performance up to 5GHz under air cooling. It includes Nvidia NF200 chipset which supports 3-way SLI/CrossFireX and DDR3-2600+ amazing memory overclocking capabilities to provide more powerful gaming performance in the latest games. Moreover, SATA 6G and eSATA 6G ports powered by Marvell chipset provide double transfer speed than ever in accessing bunch of gaming data like high-quality 3D models, textures and visual effects; two of four USB 3.0 ports powered by NEC USB 3.0 controller chip on the front panel is the first user friendly design to provide 10 times speed in sharing large files.
Also, ECS exclusive applications like eOC, eJIFFY, eBLU, eDLU deliver the convenience for users like to extract more performance under system level with safety.