(Auszug aus der Pressemitteilung)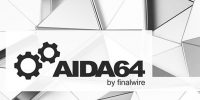 The new AIDA64 release implements optimized benchmarks for the upcoming Intel Cascade Lake processors, adds fake nVIDIA video cards detection, monitoring of sensor values on Matrix Orbital GTT displays, and supports the latest AMD and Intel CPU platforms as well as the new graphics and GPGPU computing technologies by both AMD and nVIDIA.
Fake nVIDIA video cards detection
AIDA64 can now identify counterfeit nVIDIA video cards with reflashed BIOS images, fake PCI identifiers and pretend device descriptions. Prime example of such video cards are old GeForce GTX 650 cards sold as GeForce GTX 1050 in popular webshops.
New features & improvements
AVX-512 accelerated benchmarks for Intel Cascade Lake processors
Fake nVIDIA video cards detection
Cooler Master MasterKeys MK750 RGB LED keyboard support
Matrix Orbital GTT and RoboPeak RPUSBDisp LCD support
SteelSeries Rival 600 RGB LED mouse support
Aqua Computer D5 Next and Quadro sensor support
WDDM 2.5 support
GPU details for AMD Radeon RX 580 2048SP and Radeon RX 590
32 processor groups support
find out more at www.aida64.com/whatsnew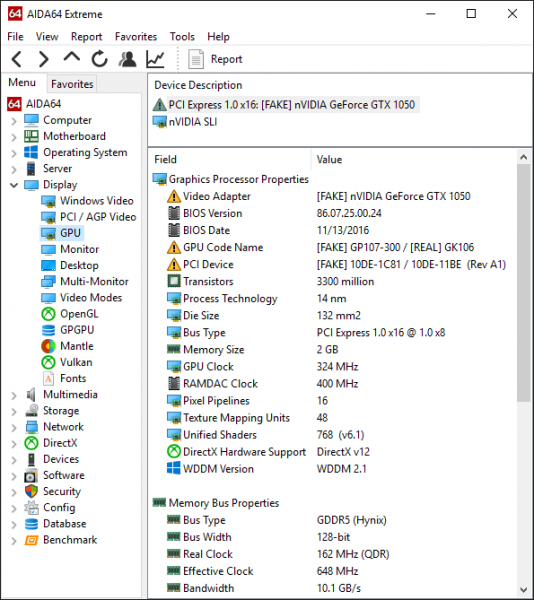 New features & improvements of AIDA64 v5.99
– AVX-512 accelerated benchmarks for Intel "Cascade Lake" processors
– Fake nVIDIA video cards detection
– Cooler Master MasterKeys MK750 and SteelSeries Apex M750 RGB LED keyboard support
– Matrix Orbital GTT and RoboPeak RPUSBDisp LCD support
– Cooler Master MasterMouse MM530 and SteelSeries Rival 600 RGB LED mouse support
– Aqua Computer D5 Next and Quadro sensor support
– Improvements for Intel Z390 chipset based motherboards
– Corsair ST100 RGB LED headset stand support
– SanDisk X600 SSD support
– Advanced support for LSI RAID controllers
– 32 processor groups support
– WDDM 2.5 support
– SteelSeries QcK Prism RGB LED mousepad support
– GPU details for AMD Radeon RX 580 2048SP and Radeon RX 590
– GPU details for nVIDIA GeForce RTX and Quadro RTX Series
What's new since AIDA64 v5.00
– Microsoft Windows 10 October 2018 Update support
– AVX and FMA accelerated FP32 and FP64 ray tracing benchmarks
– Vulkan graphics accelerator diagnostics
– RemoteSensor smartphone and tablet LCD integration
– Logitech Arx Control smartphone and tablet LCD integration
– Proper DPI scaling to better support high-resolution LCD and OLED displays
– AVX-512 optimized benchmarks for Intel "Skylake-X" and "Cannon Lake" CPUs
– AVX and FMA accelerated 64-bit benchmarks for AMD A-Series "Bristol Ridge" and "Carrizo" APUs
– AVX2 and FMA accelerated 64-bit benchmarks for AMD Ryzen "Pinnacle Ridge", "Raven Ridge", "Summit Ridge" and "Threadripper" processors
– AVX2 and FMA accelerated 64-bit benchmarks for Intel "Broadwell", "Kaby Lake", "Kaby Lake-X", "Skylake", and "Skylake-X" CPUs
– AVX and SSE accelerated 64-bit benchmarks for AMD "Nolan" APU
– Optimized 64-bit benchmarks for Intel "Apollo Lake", "Braswell", "Cherry Trail", "Denverton", "Gemini Lake" processors
– VAES optimized AES benchmark
– Preliminary support for Intel "Knights Mill" HPC CPU
– Improved support for Intel "Cannon Lake" CPU
– Advanced SMART disk health monitoring
– Hot Keys to switch LCD pages, start or stop logging, show or hide SensorPanel
– Asus, Corsair, Logitech, Razer RGB LED keyboard, mouse and mousepad support
– Asus ROG RGB LED motherboard and video card support
– AlphaCool Heatmaster II, Aquaduct, Aquaero, AquaStream XT, AquaStream Ultimate, Corsair Commander Pro, Corsair H80i Pro, Corsair H100i Pro, Corsair H115i Pro, Corsair H150i Pro, EVGA iCX, Farbwerk, MPS, NZXT GRID+ V2, NZXT Kraken X52, PowerAdjust 2, PowerAdjust 3, Thermaltake Riing Plus sensor devices support
– Corsair AXi, Corsair HXi, Corsair RMi, Enermax Digifanless, Thermaltake DPS-G power supply unit sensor support
– Support for EastRising ER-OLEDM032 (SSD1322), EVGA Z10, Gravitech, LCD Smartie Hardware, Leo Bodnar, Matrix Orbital EVE, Matrix Orbital OK, Modding-FAQ, Noteu, Odospace, Pertelian (RS232), Saitek Pro Flight Instrument Panel, Saitek X52 Pro, UCSD LCD devices
– Portrait mode support for AlphaCool and Samsung SPF LCDs
– SensorPanel and LCD: right-to-left bars, static label control strings
– 0.01 Celsius temperature measurement resolution for select sensor items
– System certificates information
– Support for LGA-1151, LGA-2066, Socket AM4, Socket TR4 motherboards
– Improvements for Intel "Cannon Lake PCH" chipset based motherboards
– 20 processor groups support
– Support for USB 3.1 peripherals
– Improved support for ARM64 systems
– Extended ACPI table decoding
– Advanced support for 3ware, Adaptec, AMD, Areca, HighPoint, Intel, JMicron, LSI, Marvell RAID controllers
– RAID member enumeration for Intel NVMe RAID arrays
– ACPI 6.1, CUDA 8.0, NVMe 1.3, OpenCL 2.1, OpenGL 4.6, OpenGL ES 3.2, SMBIOS 3.1.1, VirtualBox v5.0, Vulkan 1.1, WDDM 2.4 support
– Corsair Neutron XT, Crucial BX100, Crucial BX200, Crucial M600, Crucial MX200, Crucial MX300, Intel Pro 5400s, Kingston HyperX Predator, Kingston HyperX Savage, Kingston SSDNow UV300, Kingston SSDNow UV400, Lite-On MU II, OCZ Trion 100, OCZ Vector 180, Plextor M6V, Samsung CM871, Samsung PM851, Samsung PM871, SanDisk Plus, SanDisk Ultra II, SanDisk X400, SanDisk Z400s, SK Hynix SC300, WD Blue SSD support
– GPU details for AMD Radeon Rx 300, RX 400, RX 500, R9 Fury Series
– GPU details for nVIDIA GeForce GTX 950, GeForce GTX 960, GeForce GTX 980 Ti, GeForce GTX 1000 Series, GeForce GTX Titan X, Quadro M3000M, Quadro M5000M, Quadro GP100, Tesla M60, Tesla P6, Tesla P100, Titan Xp