(Auszug aus der Pressemitteilung)

It's EVGA's 21st Anniversary and this time we are going to a dystopian future, where technology is both a means and an end.
In the dark and gritty cityscape, the only thing brighter than the neon stings of the bright lights is EVGA's 21st Anniversary! We are celebrating 21 Years, looking to defend the future with EVGA's Cyberpunk Anniversary. Navigate through exciting events and win some excellent prizes in the most unforgettable celebration this side of dystopia!
We know our community is awesome and here's your chance to show us how high-tech you can be. We have 6 events this year that really push it to the limit to win some futuristic prizes from EVGA and our Sponsors!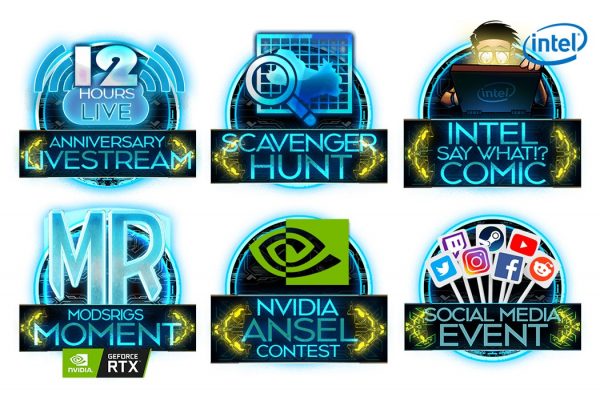 The Events:
12 Hour Live Anniversary Livestream – We are celebrating with a 12 hour live stream with all proceeds benefiting St Jude Children's Research Hospital! Join Jacob and Peter, along with a plethora of special guests. There will be games, prizes, funny challenges for the crew and more! EVGA is going to match all contributions up to $5,000 dollars! If that wasn't enough, EVGA will be giving out great prizes thanks to our generous sponosors Intel®, NVIDIA® and Hyundai® to those watching throughout the day!
Scavenger Hunt – Do you think you have what it takes to find 10 hidden badges on our website? Comb through the website to find them all, but you won't need an Esper to complete this investigation.
MODS Rigs Moment – In Cyberpunk City, talking the talk but not walking the walk is against the law. Sign-up at https://www.modsrigs.com today, and watch our 12 Hour Livestream on July 16th to participate! Jacob and Peter will be choosing the winners live, and you could get your rig upgraded to a GeForce RTX graphics card! Visit the MODS Rigs Moment event page for more information.
Social Media Event – It's our 21st Anniversary and we want everyone to join in the fun! By helping us, you'll have a chance to win great prizes from Intel® and EVGA! The more you share, the greater your chances to win!
NVIDIA® Ansel Event – Epic Game Moments! Show us your best with NVIDIA® Ansel Technology for a chance to win great prizes from NVIDIA and EVGA!
Intel® Say What!? Comic Event – Jacob, the Cyber Sleuth, is hot on the trail of the missing Z490, but things don't go as planned for our hapless hero! Fill in the blanks to the scenes and hope that Jacob can wrap this case up, and you'll be rewarded with a chance to win some epic prizes!
With tons of excellent sponsors and prizes to be won, you won't want to miss out! Don't hesitate, come celebrate with EVGA!
Learn more about the EVGA 21st Anniversary Event and enter here: https://www.evga.com/21/