(Auszug aus der Pressemitteilung)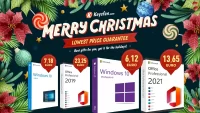 Whether you are starting a new business and need help with Microsoft Office, or just want to make your work and study more efficient, now is a great time to take advantage of the limited-time Christmas Sale to get Microsoft Office Professional 2021: Lifetime License It only costs 25.25€. Buy more save more, you can opt for a bundle of Office 2021 Pro 5PCs for as low as 13.65€ each! With this deal, you'll get Word, Excel, PowerPoint, Outlook, OneNote, and more on one computer for use at home or work. This is a complete bundle that basically handles all your business and personal needs, with the ability to download and install them immediately after purchase. After submitting your payment, you will receive a personal activation code and download instructions by email so you can start using MS Office immediately.
Lifetime Microsoft Office 2021 is only 13.65€!
Get Genuine Windows OS from 6.12€
Limited Time Special: Office for MAC
More Versions: 62% off on Office and Bundles (Coupon code: SKF62)
50% off on More Windows Version (Coupon Code: SKF50)
Practical Computer Tool Software
Why choose Keysfan?
Save money: You can get any version of Windows or Office! You'll also get all the latest software and security updates from Microsoft.
Legality of the license: You download the software directly from Microsoft's official website, and then use the activation code to activate the software. The product is 100% genuine. Keysfan's licenses are legal, and Keysfan provides a warranty for every license sold.
24/7 Customer Support: When you purchase any of Keysfan's software packages, you are entitled to customer support services if you experience problems installing or using those packages. And Keysfan provides lifetime after-sales service!
Safe: Keysfan is a very safe software sales platform, you only need to buy the software license activation key from Keysfan, and then download it from the official website of the software and activate it with the activation code, so the software you use is 100% safe and genuine!
Good Reputation: With its high-quality products and excellent after-sales service, Keysfan has a 4.8 rating and a 95% favorable rate on TrustPilot and has received more than 700 real reviews from buyers.
Contact email: Support@Keysfan.com