(Auszug aus der Pressemitteilung)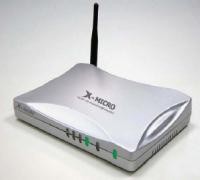 Introduction

X-Micro has incorporated a new WLAN Series device:
– X-Micro WLAN 11b Broadband Router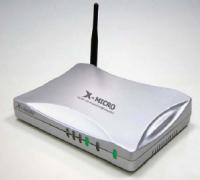 The X-Micro Router works as a wireless/ethernet controller. It brings access to the Internet when the WAN
port is connected to one of the regular modems (ADSL or Cable). It is designed to allow network access with
Ethernet 802.3(10BaseT), 802.3u(100BaseT) and 801.11b(Wireless) standards.
Mixing regular wired connections with the 802.11b wireless standard, the X-Micro WLAN Router can reach
almost any place in your internal SOHO.
It also helps to keep the security of your network with authentication keys, encryption, WEP (Wired Equivalent Privacy) and a configurable Firewall to block harmful incoming connections.
News
The X-Micro WLAN 11b Broadband Router is an affordable solution to establish a reliable network.
The Wireless connections can work at 11 Mbps with an operational range that varies within 30 to 300 meters -open space-, depending on the surrounding environment. You can place the WLAN Router in the geographic center of your wireless network to increase the reach of your WLAN wireless connections.
The Router comes equipped with one 10/100BaseT with RJ45 connector for WAN access and four 10/100BaseT with RJ45 connectors designed to connect to your local network. An external antenna comes with the X-Micro Broadband Router, and the package includes a DC 9V Power Adapter.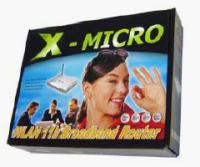 The WLAN Router has a Web Server running in the configured IP address. Using any Web Browser, the user can check the router configuration and modify or establish multiples services like: Wireless Security Setup, Wireless Access Control, LAN Interface Setup, WAN Interface Setup, Firewall (Port Filtering, IP Filtering, MAC Filtering), Port Forwarding, DMZ, Statistics and more.
X-Micro WLAN devices can work with Ad Hoc or Infrastructure Mode (Router needed) in the ISM band of 2450 +/- 50 MHz.
With the latest incorporation of the WLAN Broadband Router to the X-Micro WLAN Series, any SOHO has the best tools to improve, enlarge or establish their own wireless network.