(Auszug aus der Pressemitteilung)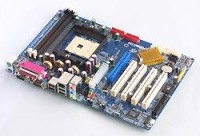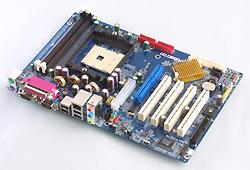 Albatron Technology recently announced two new Athlon 64 based mainboards, the K8Ultra-U standard version and the K8Ultra-U Pro. These powerful 64-bitters will be accommodating cost-conscious power users who plan to quickly upgrade to the upcoming Windows XP 64-bit operating system.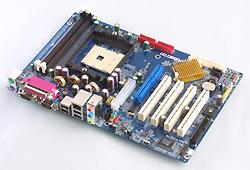 Judging from the system load increase from recent Windows XP Service Pack upgrades, industry experts are predicting an even more massive impact when the Windows XP 64-bit operating system finally arrives (64-bit customer preview editions already available). Without an adequate mainboard and CPU, some systems may become burdened to the point that they will not be able to sufficiently accommodate the new operating system.
The K8Ultra-U Series offers customers a chance to economically upgrade both mainboard and CPU to fit the new 64-bit operating system. The key to the K8Ultra-U mainboard's attractive C/P ratio is the result of a new design that combines both the Northbridge and Southbridge onto one chip. This revolutionary chipset design also greatly reduces traditional Northbridge/Southbridge latencies. The new chip is called the M1689 and is designed and produced by "ULI Electronics".
These mainboards are built using the AMD 754-pin Athlon 64 CPU power supply design which provides maximum stability. The power supply feeds power to the CPU using 3 phases, reducing the temperature on each of the phase's components and ultimately extending the life of the mainboard.
The K8Ultra-U Series supports AMD's Cool n' Quiet feature which automatically adjusts CPU voltage and fan speeds depending on the current CPU load. This reduces excessive CPU temperatures and unwanted fan noise. The "Cool n' Quiet" feature is easily configured in the BIOS setup utility.
The K8Ultra-U Series mainboards support DDR 400 memory and guarantees true DDR 400 speeds without the performance limitations found in other AMD mainboards that can downgrade DDR 400 performance to DDR 333. They also support two serial ATA ports that can provide 150 MB/sec data transfer rates. As well, they contain eight USB 2.0 ports and supports AC 97 6-Channel audio. The ?8Ultra-U Pro?version supports 10/100 Mbps LAN.
These mainboards have also been optimized for maximum overclocking. BIOS overclocking features include CPU Host Frequency adjustments (200 MHz to 333 MHz), AGP Voltage adjustments (1.5V to 1.7V), DDR Voltage adjustments (2.75V, 2.8V, 2.85V) and CPU Voltage adjustments (in increments of 5%, 10%, 15%).
With Microsoft's Windows XP 64-bit edition looming on the horizon, users are scrambling to find the most economical upgrade solutions to accommodate a potentially major operating systems upgrade. Albatron's K8Ultra-U Series mainboards comes to the rescue boasting a robust list of hardware features, cooling strategies, and peripheral support ensuring a smooth transition into the world of 64-bit technology.