(Auszug aus der Pressemitteilung)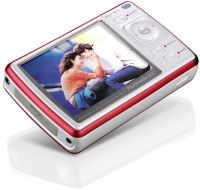 Taipei, Taiwan, March 02, 2006 – GECUBE the major supplier of the world's leading graphics card brand, announced today exciting showcases scheduled for the world's biggest technology trade exposition, Cebit 2006 in March at Hannover. Besides the GECUBETM RADEON® x1900 Crossfire platform showcase, exclusive products such as the heat pipe-powered RADEON® X1600 that offers a noiseless solution and Portable Media Player (PMP) will also both be on display. GECUBE plans to awe attendees and international buyers with outstanding innovation and solutions for 2006.
1. The most powerful 3D Graphics solutions – RADEON® X1900 CrossFire Platform
GECUBE will showcase the fastest graphic solutions: GECUBETM RADEON® X1900 Series. Supporting the 48 pixel shader backed by the universal ATI ultra-threaded engine technology that improves GPU efficiency, delays are obsolete when users process data. The Avivo video and display engine is a high-performing and programmable video processor, providing users with sharper colors and accurate digital displays (connected via the Digital Video Interface or DVI) for all solutions up to a resolution of 2560×1600. Furthermore, the HDR (High Dynamic Range) function facilitates the use of color values outside the standard range in an effort to produce a more realistic rendering of a typical 3D scene. A powerful solution that needs to be experienced first-hand, users will have a lot to look forward from GECUBE this year.
2. At only 330g in weight and utilizing SilenCool technology, GECUBETM RADEON® X1600 is the lightest Heatpipe solution on the market today
The GECUBETM RADEON® X1600 heat pipe solution is a proprietary GECUBETM product. With its unique One-Slot and Dual heat pipe apparatus, not only does it reduce the PC room, users can install it on mini PCs. The heat pipe design is currently the first noise-free heat pipe design on the market, patented by GECUBE. The weight is also light enough to allow users to change the image of the heat pipe solution.
3. The World's First GECUBE TMRADEON ® X1600 AGP Solution
The world's first solution for of RADEON ® X1000 series AGP market supports the superior choice for AGP interface gamers. AGP gamers and users can experience the X1000 series super-power functions. Support for Shader ModelTM and Open® GL take game enjoyment to another level with smoother graphics flow and more efficient processing, transporting users to another 3D world to enjoy a more powerful and thrilling experience.
4. Portable Media Player (PMP)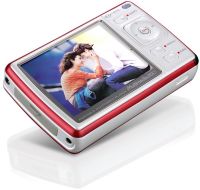 The GECUBE Portable Media Player (PMP) is a tiny and hip portable device small and convenient enough to keep up with users' modern digital lifestyles.
3.6" LCD screen
Portable Video Player holds up to 25 movies and six hours of continuous playback
MP3 Music Jukebox stores up to 5,000 MP3 music files and 8 hours of music playback. Supports popular audio formats MP3 and WMA.
Digital Photo Album stores up to 10,000 photos, displays JPEG files up to 12M pixels, and includes functionality for photo slideshows with zooming and rotating features.
Portable HDD: Portable external HDD for PCs or notebooks, this HDD contains 20GB of storage and enables users to back up movies, music, photos, or office document files.
Users can share movies and videos with friends and family anywhere, anytime with this mini-PMP device. Lightweight and portable, GECUBE's PMP enhances music listening to the great outdoors
5. DVRBox (HDD Based Digital Video Recorder)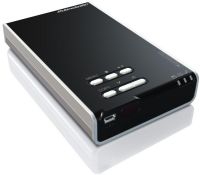 Black and elegant, the DVRBox records and converts DV, DVD, & TV to MPEG-4 video format instantly. It converts video sources such as from TV broadcasts, DVDs, or VHS tape to MPEG-4 format fast. Copying videos from camcorder is also accomplished with the minimum of hassles. After connecting a camcorder to the DVRBox's Video-in terminal, the DVRBox converts video to MPEG-4 with one simple click of a button.
Photo Storage & Viewer
The DVRBOX is equipped with a 3-in-1 memory card slot for transferring photos from a SD, MMC, or Memory Stick card to the built-in hard disk drive. Photos taken with a digital camera can be displayed and enlarged on a TV screen for sharing with family or friends.
DivX & MP3 Player
Other than recording videos and storing photos, users can use the DVRBOX as their primary DivX player and MP3 player. A few easy steps will allow users to enjoy their favorite multimedia content: simply download DivX and MP3s from a PC to the player's internal HDD by USB, and then enjoy content indoors or outdoors. The HDD provides plenty storage space for a countless number of movies and music.
Pocket-sized to suit users' business trips, files, photos, and entertainment content can be fit in one small device suitable for even small pockets, long-distance travelers or those who are constantly on the road.
6. Digital Photo Frame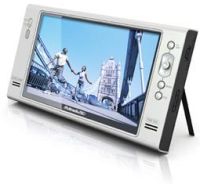 A large portable media player with a 7" ratio widescreen (16:9) LCD screen
2.5 HDD with a capacity up to 120 GB
Digital photo frame with a 7-in-1 memory cad recorder
Plays back photos from flash memory cards instantly
Accepts CF, SD, MMC, MS, and xD memory cards
Photo slideshow with MP3 background music
High-fidelity audio brings you the most true–to–life quality sound available anywhere
DivX movie player to play back the most advanced compress format on the market today
With a brilliant widescreen, users also have a smorgasbord of entertainment choices while enjoying multimedia content practically anywhere.