(Auszug aus der Pressemitteilung)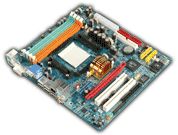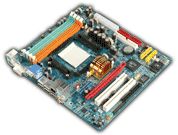 Albatron Technology announced its new KM51PV-AM2 following in the footsteps of semiconductor giant AMD's leap into the world of integrated DDR II memory controllers for K8 processors.
AMD's original forays into processor integrated memory controllers began with earlier K8 processors sporting the predecessor DDR technology. This turned out to be a defining moment for AMD, significantly increasing frequencies and bandwidth between CPU and memory, not to mention boosting processor sales to record heights.
Now, AMD has taken the next step, integrating the newer DDR II memory controller onto the latest K8 processors and calling the new socket design "AM2". This will double the bandwidth of memory which should be good news for power users and gamers.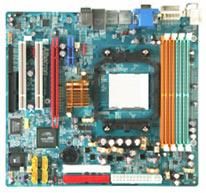 Albatron's KM51PV-AM2 is now leading the industry, being introduced as the first full featured AM2 Mainboard. It will feature NVIDIA®'s GeForce 6150 chipset with integrated graphics engine which is the same chipset as its predecessor, the KM51PV. The graphics engine will benefit significantly from the DDRII integrated memory controller as well as from the Dual Channel functionality implemented with this technology.
The KM51PV-AM2 still maintains popular features such as built-in D-sub, DVI, TV-out and HDTV interfaces. Also included are four SATA II channels with RAID.
The KM51PV-AM2 makes the leap to DDRII technology and promises enthusiasts their money's worth.