(Auszug aus der Pressemitteilung)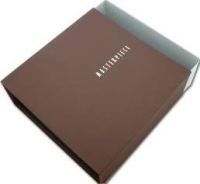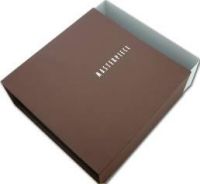 Dual Core Solution
Equipped with 512 Mb A1 quality memory
Built in an 90nm process by TSMC
Ensures top-notch compatibility and performance for all DirectX 9.0C applications, including Shader Model 3.0 titles.
NVIDIA® CineFX™ 4.0 engine
Feature NVIDIA PureVideo™ technology, a combination of hardware and software that brings consumer electronics-quality video to the PC.
Support for high definition H.264 hardware decode acceleration on 7 series GPUs.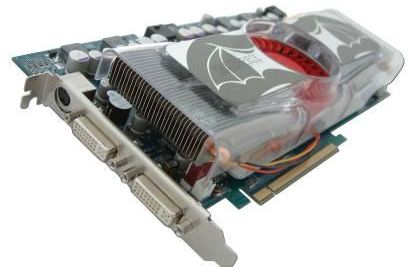 Specifications: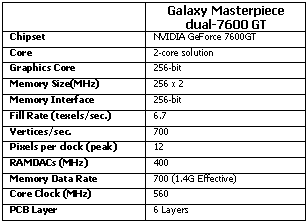 Concept:
Why GALAXY created Masterpiece products?
Marketing demands…
a) In last couple of years, IT market has trained up a group of hardcore DIY users. Most of them
have a deep knowledge of the graphic cards, they tend to be more demanding on the higher than standard graphic cards.
b) As the gaming market develops more and more complex games, it requires advanced and powerful graphic cards to deliver life-like scenes and visual effects.
c) As the cinematic site of modern games become more mature, it drags up the request of high quality graphic cards at the same time, most of the high-end cards in the market nowadays are NV reference cards, which cannot fully satisfy highly demanding hardcore players.
Why need to breakthrough the standard regulation…

The room for cost-down cards squeezed down. While the other AICs keep lowering costs, giving up quality, NV's reference boards are becoming more worth-to-buy nowadays.
It's time to realize that NV reference cards aren't the best, since they tend to make the cards only to keep them most stable, rather than fully run with maximum power. It creates the room for Graphic card Makers to create something better and more powerful than the reference board.
Most manufactures can only provide "cosmetic" changes without focusing on technology site of the product. That is where we come in. What's Masterpiece doing is not just delivers the better clock rates, but also uses the most delicate PCB, delivers the best capacitors and all of the components, and that is mainly where GALAXY shows it's advantage !
the more PCB layers, the less influences will happen to the performance
the better power supply materials, the more stable the card will be while running at the peak time and lower the temperature it will be.
the higher quality of the components (capacitors and inductors)

Branding development…
What Galaxy did in the past was selling the cards for the cheapest price possible, always compared with the other competitors' price and fight against them for market domination.
Now, Galaxy is about to set up a brand new product line, which offers the card at a worth to buy price with excellent performance and best quality available!
Masterpiece series are specially targeted products for the most demanding DIY end-users audience.
GALAXY products are about to become a synonym of trust and a mark of best technology offered.