(Auszug aus der Pressemitteilung)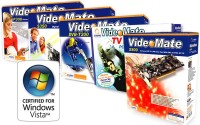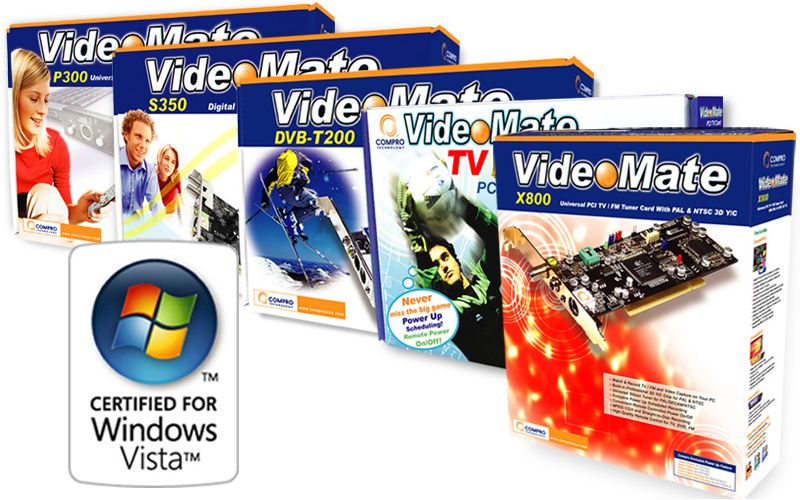 Compro, Taipei, Taiwan -March 12, 2007 – Compro Technology, Inc. the leading developer and manufacturer of multimedia products, announces that the VideoMate M, X, T, P, S series TV tuner cards have been certified for Windows Vista Premium x86/x64 (32/64Bit) system. The all-new Windows system provides more easy-to-use interface with lots of friendly multimedia features, and now the VideoMate M, X, T, P, S series TV cards will let users enjoy high-quality TV watching and recording in Windows Vista.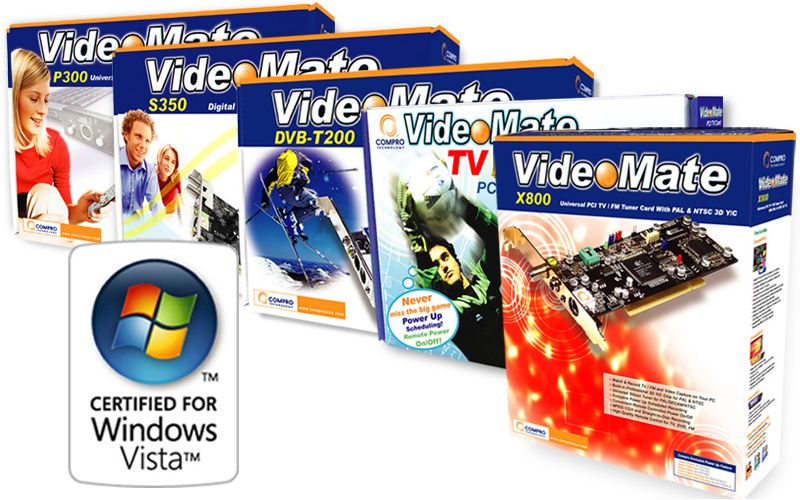 For the Windows Vista era, Compro has added many resources to update drivers and applications for Windows Vista. Additionally, VideoMate M, X, T, P, S series TV cards get the certifications from Microsoft's WHQL (Windows Hardware Quality Lab) to ensure all users can get perfect performance for the Vista Premium x86/x64 (32/64Bit) system. Also, Compro will continue to provide more Vista certified products and update drivers for more easy use; you can go here to get updated information.
VideoMate M series (including VideoMate TV Ultra, Gold Plus II, Gold Plus, Gold II, Gold, TV, TV/FM, TV PVR/FM, and TV PVR) and VideoMate X series (including X800, X500, X350, X200, X100, X50, X30) are the complete analog TV cards product line from Compro to provide more crystal clear picture quality than has ever been in the market, and provide exclusive Power Up Scheduled Recording and Remote Controlled Power On/Off features for more convenience (VideoMate TV Gold/X350 and above). Also, the VideoMate TV Ultra and X800 equipped the professional 3D Y/C separation and noise reduction chip with Compro's own development Tweak Y/C utility to provide the most vivid TV watching and recording.
VideoMate T series are products for watching free-to-air DVB-T digital TV on your PC, including pure digital TV, hybrid analog + digital TV, and dual analog + digital TV card models for different needs. All these cards can provide Compro's advanced PIP/POP multiple channel windows TV watching at the same time, Video Desktop to setup live TV in wallpaper mode, 1080i HDTV with MPEG-2 and TS formats flexible scheduled recording, and the high quality TV viewing on your PC.
VideoMate P series are easy-to-carry and easy-to-install products for laptop PC. The CardBus design can fit the laptop PC's PCMCIA slot and provide analog TV/ (digital TV)/ FM/ video capture features whether at home or on the go. It's easy to put into your laptop bag and carry it, and then you can watch and record your favorite universal analog TV or DVB-T digital TV shows with one click on your laptop even when you go abroad.
VideoMate S series provide HDTV quality free-to-air DVB-S digital satellite TV watching and MPEG-2/TS formats recording on your PC. With Compro's exclusive technology, it turns your PC into a high quality digital video recorder.
Compro unleashes the convenience of video technology to enhance your life, and brings you the continuous innovation in high video quality experience. With the powerful hardware and engineer team, now is the time to show you all the professional multimedia TV products in Vista era.
Available Models:
VideoMate M series:
VideoMate TV Ultra (analog TV/FM/video capture/Power Up/NTSC 3D Y/C), VideoMate TV Gold Plus II, Gold Plus (analog TV/FM/video capture/Power Up),
VideoMate TV Gold II, Gold (analog TV/video capture/Power Up),
VideoMate TV, TV/FM, TV PVR/FM, TV PVR (analog TV/(FM)/video capture)
VideoMate X series:
X800(analog TV/FM/video capture/Power Up/NTSC 3D Y/C),
X500(analog TV/FM/video capture/Power Up),
X350(analog TV/video capture/Power Up),
X200, X100, X50, X30 (analog TV/ (FM)/video capture)
VideoMate T series:
T750 (dual A+D/video capture),
T300 (hybrid A+D/video capture),
T220, T200, T200A, T100 (digital TV with video capture)
VideoMate P series:
P500 (hybrid A+D/FM/video capture),
P350 (analog TV/FM/video capture)
VideoMate S series:
S350 (DVB-S with video capture and power up feature),
S300 (DVB-S with video capture)