(Auszug aus der Pressemitteilung)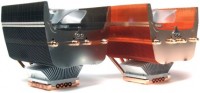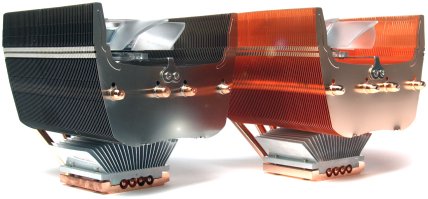 Nexus launches three new processor coolers suitable for both the latest Intel and AMD processors. And as what can be expected from Nexus these models walk the fine line of optimal performance combined with optimal silence. By combining different technologies Nexus has managed to give the cooler a heatsink structure with heat pipes that require only little airflow to perform, whilst keeping the noiselevel at a bare minimum.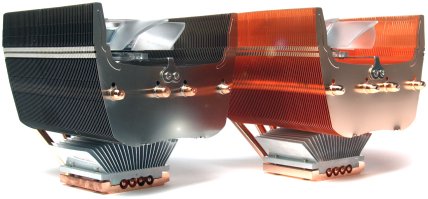 XiR-2300 and XiR-3500
The XiR-2300 and XiR-3500 models have the same design but use different materials. Four heat pipes of 6mm diameter are installed and a SkiveTek base is in place. The XiR-2300 has ultra-thin aluminum fins and the XiR-3500 has the same thin fins but made from pure copper. The aluminum version will do great for regular pc users and the copper version pushes the performance thus some safe overclocking is possible. The fan speed is temperature controlled and can vary between an inaudible 1200 RPM (less than 15dB(A)) at common conditions and 2500 RPM at extreme stress (max. 24dB(A)). As a little bonus these coolers are fitted with 2 orange LED's in the core of the fan.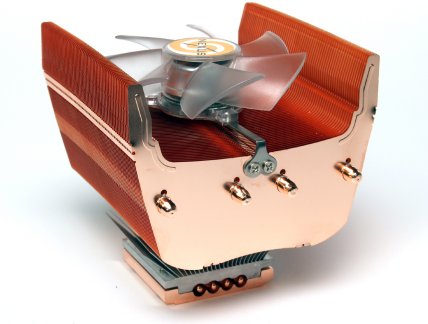 XiR-3500
The HOC-9000 processor cooler uses advanced HOC-technology. This means the four extremely big 8mm heat pipes of this cooler have been shaped to have a 100% flat surface to be fixed directly onto the core of the processor. This technology in combination with a high capacity 12cm fan and a dimpled fin surface makes the cooler to perform at 0.15°C/W. Fan speed is managed by PWM-control and the speed can vary between as low as 600 RPM and 1500 RPM, producing just 17 to 21.6 DB(A). A unique feature on this model is that you can choose the appearance of the cooler by fitting any of the 3 supplied artwork designs; racecar-, raceboat- or camouflage-look is supplied with the cooler.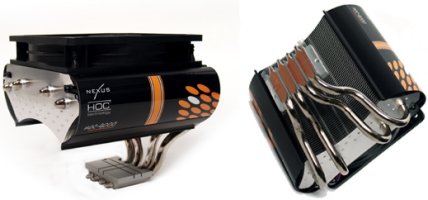 HOC-9000
Nexus has made a name for itself with its real silent case fans. These case fans are used as the reference standard all over the Internet when it comes to the ultimate balance between high performance and low noiselevel. With this build-up expertise Nexus offers a wide range of authentic silent pc components. The XiR and HOC coolers are a great addition to their product line-up.