(Auszug aus der Pressemitteilung)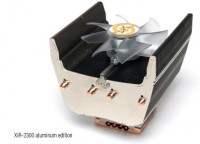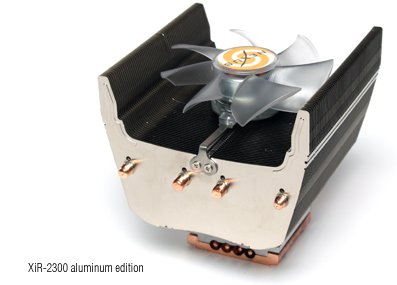 We just released three new CPU coolers, all compatible for Intel and AMD.
The Nexus XiR coolers combine some of the most advanced technologies in the market used for CPU coolers. Heat pipes, SkiveTek and ultra-thin fins combined with a real silent temperature controlled fan delivers ultimate performance which has never been this quiet before.
XiR coolers are crafted out of the purest aluminum and copper materials. The heat sink covering the heat pipes and the copper base is made using SkiveTek technology. We have managed to apply the best technologies at the best position on the cooler. And the result is astonishing…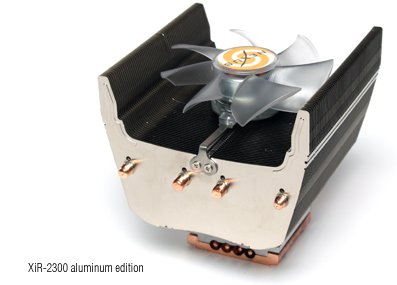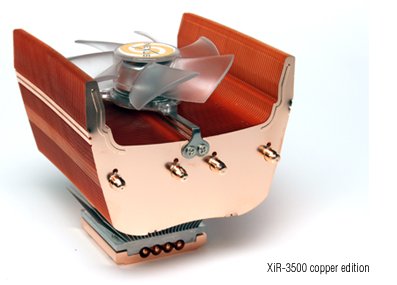 The temperature sensor on the fan makes sure the fan speed is always at an optimal lowest speed. The speed can vary between 1500 and 2500 RPM creating a noise-output of an inaudible 15 dB(A) up till a still truly quiet 24 dB(A).
You should really experience it yourselves; high-end performance and low-noise combined. The XiR cooler range is your best choice!
ohh…before we forget. We put two orange LED in the fans center core…just for fun.
The Nexus HOC-9000 is setting new standards for CPU coolers.
The revolutionary HOC-technology puts the 8mm diameter heatpipes directly on the CPU. So the heat of the processor is directly transfered onto the heatpipes. And as heatpipes have a greater heat disipation power then plain aluminim or copper the heat is transfered with great efficientcy.
Together with the improved surface area of the aluminum fins, the v-shape area underneath the fan, and the airlfow focus, the performance of this cooler reaches an amazing 0.15°C/W. And all this at an ultra low fan speed from 600 RPM (PWM controlled to a max of 1500 RPM).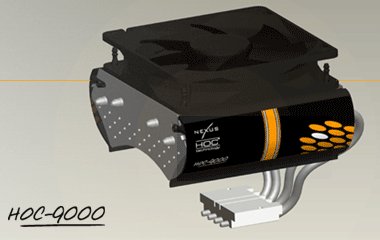 You are looking for Performance and Silence? Look no further: HOC-9000!