(Auszug aus der Pressemitteilung)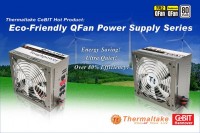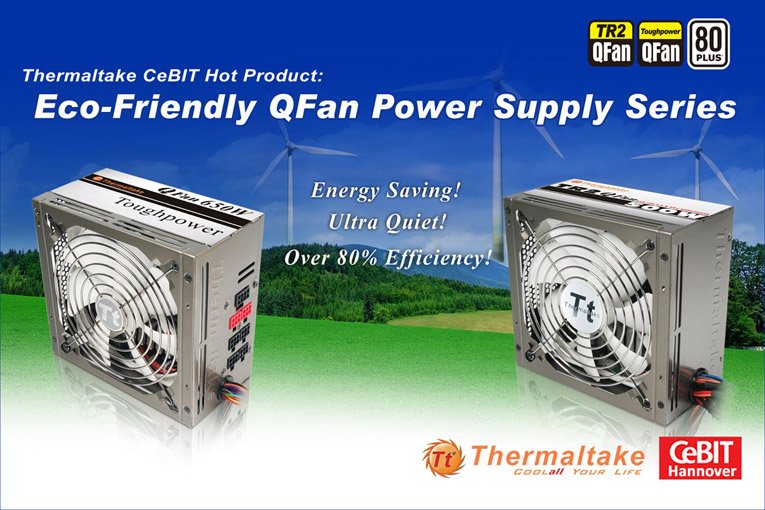 February,2008 – This year at CeBIT Hannover, you can expect the latest Eco-Friendly power supply units from the worlds leading PC hardware manufacturer, Thermaltake Technology. Toughpower QFan series (available in 750W, 850W, and 1000W) and TR2 QFan series (available in five models: 300W, 350W, 400W, 450W, 500W). Both series are specially designed for 80Plus compliance while providing the lowest noise and considerable thermal dissipation for a PSU.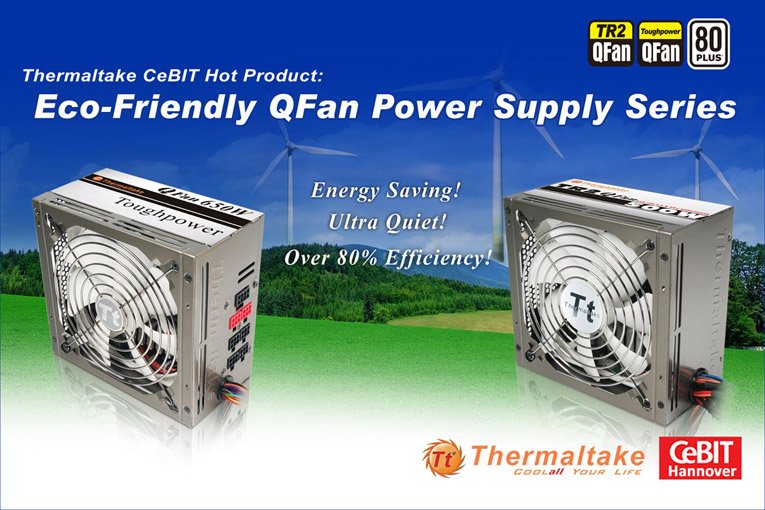 Thermaltakes Toughpower QFan 500W/650W has gained a strong reputation for silence and energy saving since its launch in August 2007. To provide system builders with wider ranged products, Thermaltake Technology is pleased to introduce higher wattage lines of 750W/850W/1000W in the Toughpower QFan line. These new PSUs are not only 80Plus compliant, but have been specially designed for enthusiasts with heavy system power demands and extra caring on the thermal dissipation and silence excellence. Apart from the Toughpower QFan 750W/850W/1000W, Thermaltake Technology will also be introducing the TR2 QFan 300W/350W/400W/450W/500W for eco-conscious PC players with lower power demands and concerns in both the thermal dissipation and noise level issues.
Thermaltake QFan series are equipped with a patent 140mm silent QFan to lower the overall noise level. The innovative QFan has a unique patent blade shape design and a 360X open frame that effectively minimized the noise production. Comparing with the standard cooling fans, the five-way air intake of QFan PSUs greatly increase air flow and improve the thermal dissipation ability of the fan. Come visit Thermaltake at the booth location noted below, and find out for yourself!