(Auszug aus der Pressemitteilung)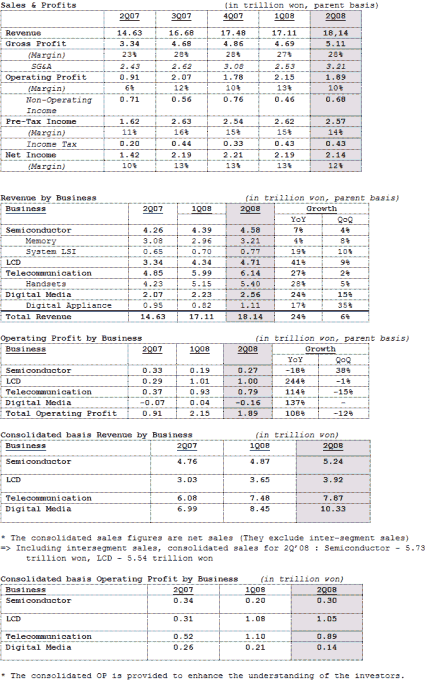 SEOUL, Korea – July 25, 2008 – Samsung Electronics Co., Ltd., today announced revenues of 18.14 trillion Korean won (won) for the second quarter of 2008 ended June 31, 2008. Operating profit and net income for the quarter were 1.89 trillion won and 2.14 trillion won on a parent basis, increasing by 108 percent and 51 percent year-on-year respectively. Revenues and operating profits on a consolidated basis were 29.10 trillion won and 2.40 trillion won.
Samsung demonstrated relatively solid performance thanks to its competitive LCD business and profitable memory business, overcoming challenging conditions including a global economic slowdown, sluggish demand in key markets, a surge in raw material prices, and increases in marketing expenses.
"The second quarter has been extremely challenging due to stagnant demand and price drops in the memory market, along with growing price competition in the mobile and LCD TV markets," said Dr. Woosik Chu, executive vice president of investor relations. "Amid these challenges, Samsung demonstrated its competitiveness by reaching an operating margin of 21 percent in our LCD business, upholding an operating margin of 13 percent in telecom, and maintaining profitability in our memory business."
Outstanding Performance in LCDs
The LCD Business posted operating profit reached 1.00 trillion won with a profit margin of 21 percent, while revenue grew nine percent quarter-on-quarter, reaching 4.71 trillion won on a parent basis. On a consolidated basis, its operating profits of 1.05 trillion won and revenues of 3.92 trillion won on a consolidated basis.
Strong and stable customer bases, in particular major TV set makers, helped to drive steady growth in LCD revenues, despite weak seasonality and price decreases for LCD panels throughout the quarter. Large panel shipments increased to 25.4 million units, up 11 percent quarter-on-quarter, while TV panel shipments reached more than 5 million units. Steady demand in panels for notebook PCs also contributed to the business' favorable results.
For the second half of 2008, sales volume is expected to increase due to strong seasonality from TV set makers preparing for high product demand typical of the third and fourth quarters. Risks faced by the LCD Business in the next quarters include decrease in demand resulting from a global recession and the growing capacities of panel makers.
The LCD Business expects to enhance its profitability by focusing on large and premium panels such as full HD panels for TVs, LEDs for notebook PCs and wide panels. The launch of full-scale operations for phase two of the LCD 8-1 line will continue to secure frontrunner status in the industry overall, extending Samsung's leadership gap over competing panel makers.
Gradual Improvements in Semiconductors
The second quarter operating profit of the Semiconductor Business was 270 billion won and quarterly revenue was 4.58 trillion won, increasing by 38 percent and 4 percent quarter-on-quarter respectively on a parent basis. The Semiconductor Business improved its revenue and operating profit despite weak demand, posting a quarterly operating profit of 300 billion won on revenue of 5.24 trillion won on a consolidated basis.
Factors influencing the favorable results included cost competitiveness achieved through the expansion of 68nm DRAM technology and 51nm NAND technology, as well as continued improvements in yield. The System LSI division in particular demonstrated strong performance thanks to relatively robust demand in Display Driver ICs, Smart Card ICs and CMO Image Sensors.
The Semiconductor Business anticipates that the global economic slowdown may impact its performance throughout the second half of the year with limited opportunities for increased demand. Despite relatively slack industry conditions, Samsung will further strengthen its cost competitiveness via ramp-ups of the company's 56nm DRAM and 42nm NAND technologies. Furthermore, Samsung will invest more than 7.00 trillion won in DRAM and NAND capital expenditures, as announced earlier this year, to solidify the company's market leadership and enhance future competitiveness.
Maintaining Double Digit Margin in Telecommunication
The quarterly operating profits of the Telecommunication Business were 790 billion won on revenues of 6.14 trillion won on a parent basis. The Telecommunication Business posted quarterly revenues of 7.87 trillion won and operating profit of 890 billion won on a consolidated basis. The quarter's results included relatively less profitable performances by PCs, MP3 players, and set-top boxes, three operating units recently transferred to the Telecommunication Business from the Digital Media Business. Its operating margin reached double digits of 12.8 percent despite high marketing costs to support launch of new premium products, such as the Soul and Omnia.
Sales of handsets achieved 45.7 million units, with total unit sales for the first half of 2008 reaching 92 million units, an increase of more than 20 percent year-on-year. Strong sales of premium phones both in domestic and overseas markets boosted the mobile phone ASP to $143, an increase of 1.4 percent quarter-on-quarter, overcoming sluggish demand in developed markets.
The Telecommunication Business forecasts new challenges for the second half of the year, including a global economic slowdown, Korean won depreciation, and greater marketing expenditures. Samsung will address these challenges, and anticipates growth beyond the industry average, with a twofold market strategy: Continued development of strong product portfolios tailored to developed markets as well as emerging markets, and expansion of channel distribution in emerging markets.
To support integration of the PC, MP3 player and set-top box divisions transferred from the Digital Media Business, Telecommunication has established a new organization, the "Mobile Solution Center," to accelerate content development. Samsung is committed to leadership of the mobile internet and multimedia era, providing a total solution portfolio that encompasses all elements from infrastructure, to multimedia devices, to content and services.
Solid Performance in Digital Media
The Digital Media Business posted 2.56 trillion won in quarterly revenue and an operating loss of 160 billion won on a parent basis. On a consolidated basis, operating profit of the Digital Media Business was 140 billion won on revenue of 10.33 trillion won on a consolidated basis. Operating profit of the Digital Media Business reflected a negative impact due to greater price competition and increases in material costs.
Sales of air conditioners helped the Digital Media Business with strong demand for Side-by-Side models in the U.S., Europe and BRIC countries. Additionally, Samsung achieved a second quarter market share percentage in the high 20s for LCD TVs in the U.S. Overall shipment of flat panel TVs increased 14 percent quarter-on-quarter, exceeding average industry growth of approximately nine percent quarter-on-quarter.
The Digital Media Business anticipates surpassing its annual sales target of 21 million flat panel TV units, and continues to expand its laser printer product portfolio for corporate markets and distribution channels.