(Auszug aus der Pressemitteilung)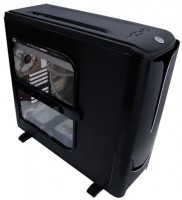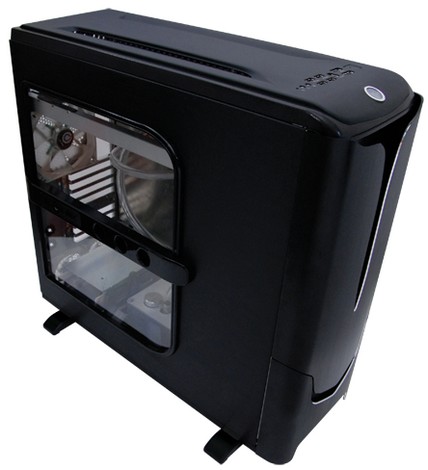 November 7, 2008 – IKONIK announces its high-end gaming PC-case Ra X10-Series, including Ra X10 LIQUID, Ra X10 SIM and Ra X10 Smooth. During the international exhibition Computex, customers, media and end-users were impressed by Ra X10 LIQUID with an integrated liquid cooling system and IKONIK's SIM. Now, IKONIK is going to unveil the entire series!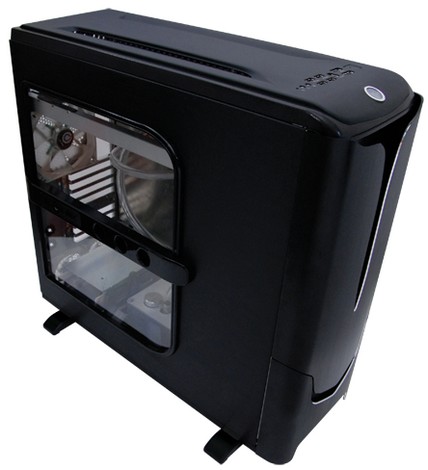 Ra X10 LIQUID has been created to provide users with the best performance both for overclocking and/or gaming. It hosts the world's most fans, 13 to be exact and an integrated liquid cooling system. Also it comes with IKONIK's SIM (System Intelligent Management), a universal tuning solution. This makes it a truly high-end overclocking and gaming product.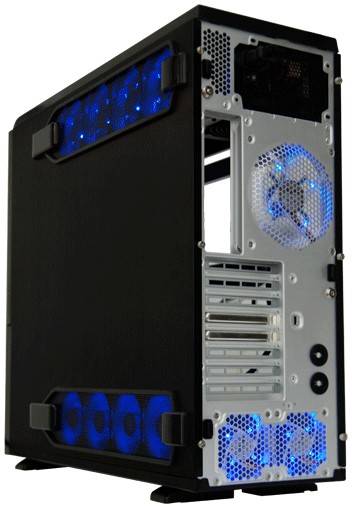 Besides Ra X10 LIQUID, IKONIK today unleash another two models; Ra X10 SIM and Ra X10 Smooth. All three PC-case have many features in common, but also have their own character.
Ra X10 SIM is an intelligent PC-case, combines 13 fans and SIM, which cools the system efficiently. SIM for Ra X10 is a universal tuning solution to measure the temperature of six components and monitor and control all the 13 fans, helpful to monitor and control the thermal process. Besides, there are three pre-settings such as Performance Mode, Silent Mode and 0dB Start Mode, making it easy to choose the right setting for any application. For real power users, SIM gives them the opportunity to make settings to their own preference, creating a personal power machine.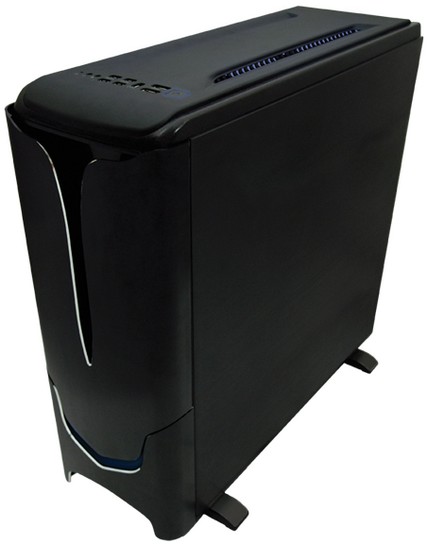 Many users now days demand a silent PC and that is what Ra X10 Smooth offers. It is designed to combine performance with low noise level computing. Its four fans take care of the airflow, making sure all components are cooled efficiently. This PC-case is aimed for a silent computing experience. Everything has been done to minimize the noise level, such as rubber strips preventing vibration, anti-vibration springs for optical drives and special designed hard-drive installation rails to reduce noise.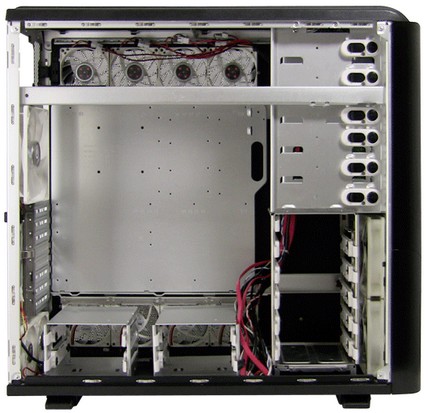 IKONIK's Ra X10-Series has everything users expect from a PC-case, it is full aluminum, lots of drive bays, advanced air circulation and a combination of aero-dynamic and futuristic looks. Three PC cases aiming on three different segments; high-end overclocking and gaming performance, intelligent computing and silent.
Ra X10-Series specifications: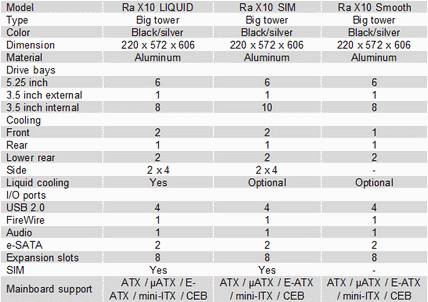 The Ra X10-Series is available from December and among others available at Alternate site.
Prices start from 195 Euro (excl. VAT) for Ra X10 Smooth, 255 Euro (excl. VAT) for Ra X10 SIM and 420 Euro (excl. VAT) for Ra X10 LIQUID.