(Auszug aus der Pressemitteilung)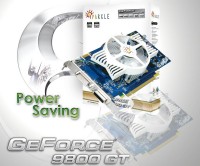 Taipei, Taiwan – April 9, 2009 – SPARKLE Computer Co., Ltd., the professional VGA card manufacturer and supplier, today introduced the SPARKLE GeForce 9800 GT Graphics Cards with power saving function, to meet the demand of environmental protection.
Commitment to the earth
By Introducing the SPARKLE GeForce 9800 GT Graphics Card, now SPARKLE not only can
provide a high performance graphic solution, but also encompasses effective power savings and a
friendly green environment. With NVIDIA's advanced chip technology and strong R&D capabilities
of SPARKLE, the power saving function of the SPARKLE GeForce 9800 GT Graphics Card knocks
the socks off consumers. Keeping the same performance and without the need of external power
supply, the card's overall downs the power consumption and GPU voltage. With environmental
protection conception inside, this eco-friendly function will dramatically reduce power consumption and
heat emissions, effectively against global warming and manage to do energy conservation.
Advanced Rendering Architecture
Based on NVIDIA's next generation G92 architecture, the SPARKLE GeForce 9800 GT Graphics
Card adopts innovative unified architecture, dynamically allocates processing power to geometry,
vertex, physics, or pixel shading operations, delivering up to times the gaming performance of prior
generation GPUs. Built upon technologies such as NVIDIA Lumenex Engine, providing support for
DirectX 10 Shader Model 4.0, NVIDIA Quantum Effects technology for physics computation and
GigaThread Technology for extreme processing efficiency in advanced, next generation shader
programs.
2nd Generation PureVideo HD
High-definition video decoder and post-processor delivers unprecedented picture clarity, smooth
video and accurate color for movies and video.
Cooling System
Exquisitely made cooling fans, which have high performance thermal compound ensures optimal
thermal dissipation even after years of use.
Full Microsoft ® DirectX ®10 support
Perfect support DirectX 10 GPU with full Shader Model 4.0 support delivers unparalleled levels of
graphics realism and film-quality effects.
NVIDIA™ PhysX
GeForce GPU support for NVIDIA PhysX technology, enabling a totally new class of physical
gaming interaction for a more dynamic and realistic experience with GeForce.
NVIDIA™CUDA Technology
CUDA technology unlocks the power of the GPU's processor cores to accelerate the most
demanding system tasks such as video transcoding delivering up to 7x performance over traditional
CPUs.