(Auszug aus der Pressemitteilung)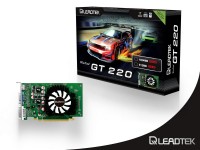 Taipei, Taiwan, October 12th, 2009 – Leadtek Research Inc., known globally for extreme visual graphics technology development, today announced the launch of a new member of its NVIDIA® GeForce® 200 series, the WinFast® GT 220.
Based on NVIDIA® GeForce® GT 220 GPU built in the 40nm process technology, WinFast® GT 220 has better GPU computing capability and rendering performance, and reduce overall power consumption. WinFast® GT 220 provides a turbo-high core clock speed up to 625MHz, in addition, 4 different memory/form factor combinations to meet all a gamer's graphics needs. With ATX and Low profile board design, it features, respectively, ultra high speed 1024MB 128bit DDR2 or DDR3 memory, providing a more flexible choice. Now gamers are easily able to find their ideal WinFast® GT 220 graphics solution.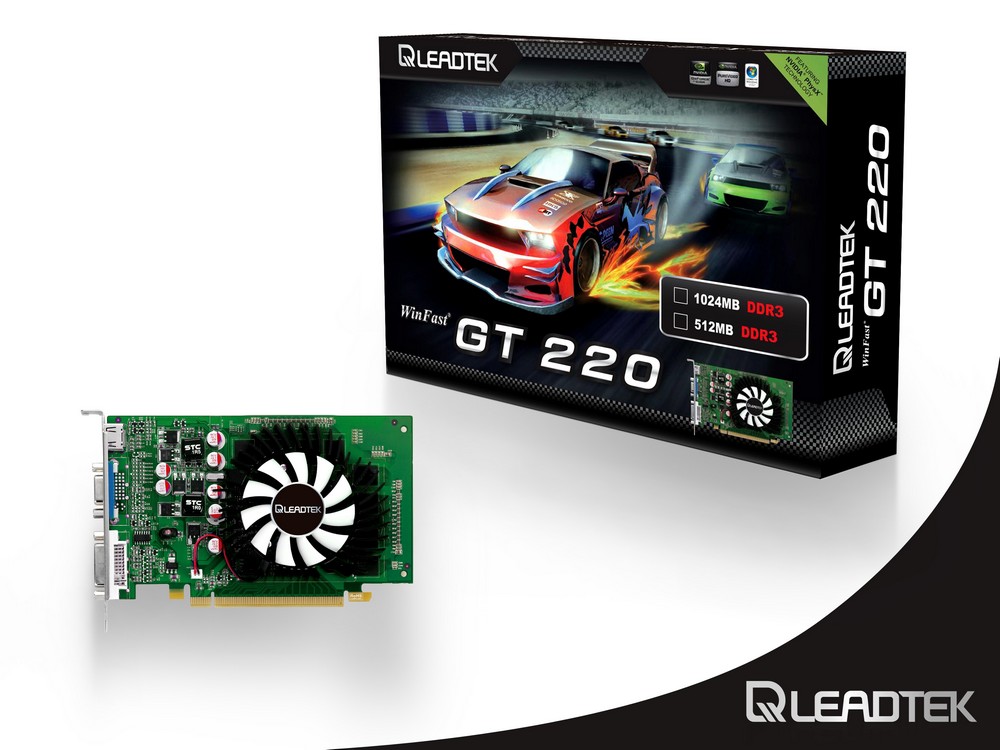 WinFast® GT 220 features all solid aluminum capacitors from the world's leading vendor. The aluminum capacitors are known for their high durability, stability and adaptability to high temperature and ensure that WinFast® GT 220 always functions normally – even with over-clocking and in extreme environmental conditions. There is no need to worry about electrolytic leakage or excessive heat generation.
Supporting NVIDIA® CUDA™, the latest parallel computing architecture with massive independent processing cores, the WinFast® GT 220 is empowered to execute the most intricate non-gaming applications via CUDA language. These include accelerating the art design application, science simulation application or transcoding of video to a personal video player up to 7X faster than the CPU. The NVIDIA PhysX technology enables a totally new class of physical gaming interaction for a more dynamic and ultra-realistic performance with Geforce.
With the full support of the latest Microsoft® DirectX® 10.1, OpenGL 3.1* and Shader Model 4.1, the WinFast® GT 220 is also able to deliver realistic and high quality gaming effects that assures users of premium performance in 3D graphics. And not to forget, WinFast® GT 220 is now compatible with the Microsoft Windows 7 for a better user experience.
* Requires R190 drivers or later
Specifications