(Auszug aus der Pressemitteilung)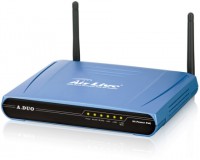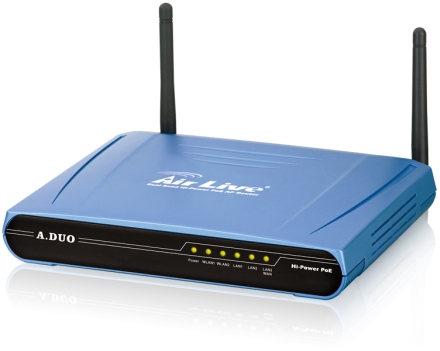 Taipei, Taiwan – AirLive, one of the most advanced worldwide brands for networking and communication equipment, has recently adds another high power PoE AP router which supports concurrent dual band for both 5GHz and 2.4GHz frequency bands delivering high speeds of up to 108Mbps Atheros Super Turbo Modes. This product is able to provide up to three times more coverage than most concurrent dual band routers available in the markets. This innovative product is building the wireless internet service field due to its high power. So the product is best suited for Enterprises, School, Shopping Mall, ISP (Internet Service Provider) and Hotel Network.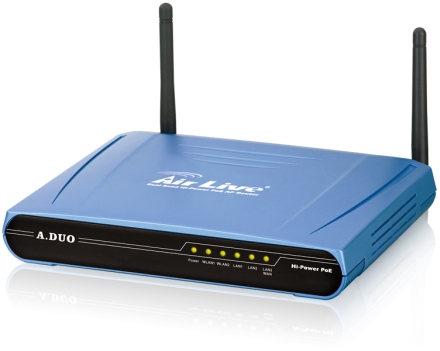 AirLive high power routers are different with other high performance wireless routers, the routers are powered with advance software functions such as Bandwidth Control, PPPoE server, SNMP, SSH, Multi-DMZ, Variable Channel Width, and almost 100 other features. All these powerful functions are harnessed by the user friendly AirLogic Interface. Everything is arranged in the most logical layout, so the users can immediately configure the A.DUO quickly without even looking at the user's manual. So, installation is very easy for the product. It can also perform 7 wireless Operation Modes.
AirLive A.Duo is next generation Concurrent Dual Band (5GHz & 2.4 GHz) Router, each radios is capable to operate independently. The most striking feature of the products is, if each radio could provide three times more converge than normal radio, both radio could provide more than three times converge than original. It greatly surpasses the competitions in supporting extended channels till 6.1GHz. Therefore, A. Duo can act as a WISP 2-Way CPE, repeater, bridge, hotspot, which provides a great range of flexibility of network infrastructure. To top it off, the 802.3af compliant PoE port allows the users to install the A.DUO far away from power source. AirLive A. Duo can be a bridge between Outdoor Wireless and Indoor Wireless (WISP 2-way CPE).
"AirLive endeavors to provide always better and cost-effective solutions for SOHO, Enterprise, and Industrial market, which will then help to improve every aspect of the daily life. So our latest product AirLive A.Duo will be the best choice of internet infrastructures for Internet Service Providers, Enterprises, hotspot builders, and hotel constructors. It will be a better choice to choose 5GHz as their Wireless internet service since there is no 5GHz Jammer in the market yet," said Beesha Lin, Sales and Marketing Director at AirLive.
Not only rich in features, the AirLive A.DUO Dual-Band high power PoE AP router is also rich in design — ideal for ease of installation and placement. AirLive A.DUO is ideal for WISP application with two separate radios, the 5GHz radio can be used for connection with WISP outdoor AP and the 2.4 GHz radio can be used for indoor Wi-Fi network for home and office. Therefore, WISP no longer has to install two separate units to provide wireless access in subscriber's home. A.Duo is very competitive because its channel support is from 4.9 to 6.1GHz better than market products.