(Auszug aus der Pressemitteilung)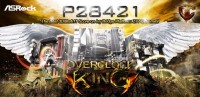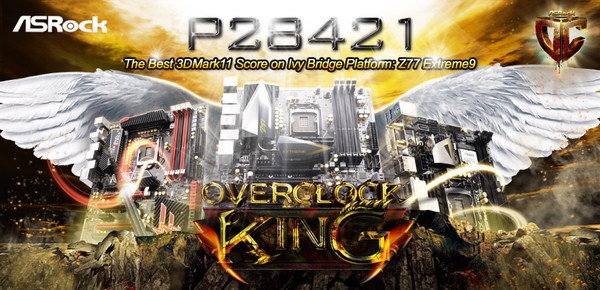 TAIPEI, Taiwan, July 17, 2012 – The leading motherboard brand ASRock today announced the winner list of Z77 Global Overclocking Competition with Futuremark®, sponsored by ADATA, Cooler Master, Galaxy, and Intel. The final champions of 3DMark 11 events went to Chaos and X-power while John Lam and rybamcz won the title of 3DMark Vantage event final champion.
The contest generated two top scores entering the 3DMark 11 Performance-Preset Hall of Fame and the scores of P28421 created by Chaos (Poland) has been listed as the highest 3Dmark 11 score on the latest Intel Ivy Bridge platform.
The two final champions of 3DMark 11 events, Chaos (Poland) and X-power (China), created top scores of P28421 and P28302 respectively with ASRock Z77 Extreme9 motherboard and Intel Core i7-3770K CPU. Featuring ASRock unique XFast 555 Technology (XFast RAM, XFast LAN and XFast USB), ASRock Z77 Extreme9 supports for 4-Way SLI/CrossFireX by PLX PEX 8747 Bridge and provides desirable configurations essential to build up an unbeatable rig!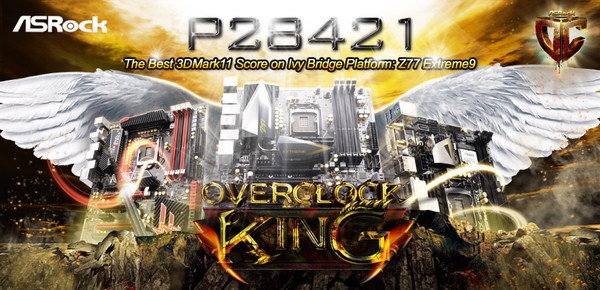 On the other hand, John Lam (HK) and rybamcz (Poland) topped 3DMark Vantage event with the scores of P52103 and P51282 respectively. Both John Lam and rybamcz hit the top score with ASRock Fatal1ty Z77 Professional.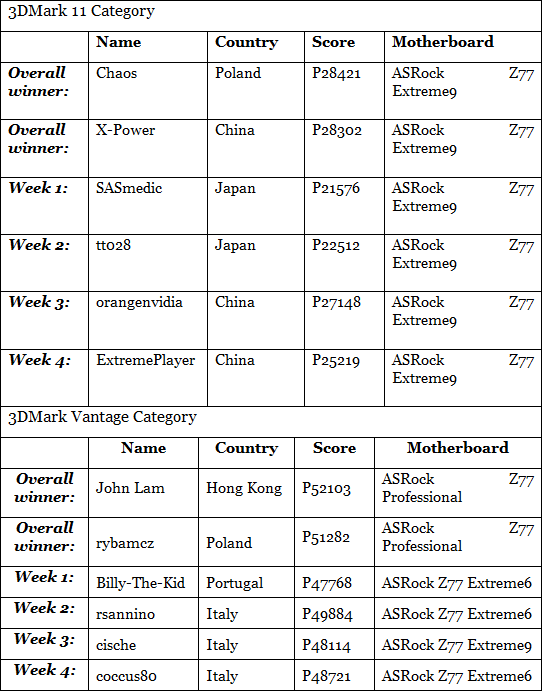 Besides the winner result, specific participant used ASRock Z77E-ITX and created a stunning 3DMark Vantage score of P42228, which is the highest record created with ITX motherboard up to date. It is evident that ASRock motherboards have great overclocking capability regardless of the form factors.
Side Note:
Due to the technical issues happened on Futuremark platform during the contest, ASRock and Futuremark decided to award two best contestants in each category to assure the fairness of the competition.
Original Statement from Futuremark:
Due to the technical issues in communicating the exact contest deadline on Futuremark website, the contest jury decided to extend the competition by 24 hours to allow all overclockers a fair chance of sending in their best scores. In addition, ASRock awarded Grand Prizes to the two best contestants in each category. Two further winners will receive additional prizes from ASRock to reward their skill and commitment to getting the most out of their components."
Complete results of ASRock Z77 OC Competition
Futuremark 3DMark 11 Performance-Preset Hall of Fame
Best 3Dmark Vantage Score by ITX Motherboard (ASRock Z77E-ITX)