(Auszug aus der Pressemitteilung)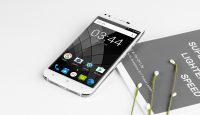 This week, OUKITEL announced the first 4 camera smartphone OUKITEL U22 with dual-lens camera for both front and back cameras. Though it's a 3G smartphone, it's expectable that it will get super good camera shooting effect. Here we have got a hands on video for this U22.
The video shows what U22 real device looks like. From the video we can figure that U22 has got a beautiful design with 2.5D curved display and human ergonomic design on the back. U22 will get the original google UI from factory according to latest google policy. But OUKITEL will also put the OUKITEL traditional UI in software for user's choice. According to latest news, OUKITEL U22 battery has been changed to 2700mAh, larger than previous announced 2500mAh. 
In the OUKITEL U22, it will get some geture motion like turn off speaker when you put your U22 besides ear, free screenshot, two points to adjust volume, double tap home button to lock screen etc. Smart gestures like draw letters to access related applications will also be available. U22 is a 5.5 inch device, if you think the screen is too big, then one-hand mode can be useful. Parallel space enables to log in two facebook accounts, twitter accounts, or other third party applications. 
Fingerprint has been a standard configuration for smartphone protection. U22 offers microarray press fingerprint. It can be used for lock and unlock device as well as other functions like take photos, play music etc. By end of video, it shows several different photo effect in U22. The most important feature for dual cameras are to offer SLR experience. As the software is still optimizing, OUKITEL will release the real camera effect in another video in the future.
U22 is available for subscription now on advance sale page of OUKITEL official website. Presale will start on next Tuesday and will last for one week. Only a few authorized stores will get the authorized presale flash sale price. OUKITEL will announce these authorized stores when presale starts.