(Auszug aus der Pressemitteilung)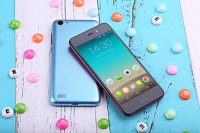 Gretel announces the red and blue version of Gretel A7 today, both editions will be available in online stores to order worldwide from the next Monday, June 19. You will be able to buy them on the authorized stores like Amazon, eBay, Gearbest, AliExpress and the others.
Gretel doesn't share anything about the price. here we get some leaked photos of the red and blue Gretel A7. Red version has a red casing, blue version has the blue casing, but both the front is black. So, A7 new versions will features the same designs as the old versions, such as LED notification home button, 4.7 inch display and outside looking. As the photos shown below:
The Gretel A7 boasts the title of cheapest 3G smartphone with Corning Gorilla Glass on the market. And now they have the most colors too. But will the A7 survive being driven over a Porsche Cayennes vehicle? See for yourself!
From this video, Gretel A7 survives from rolling a car over it. How does it happen? The A7's screen is protected by Corning Gorilla Glass. Its three-layer anti-scratch 9H hardness screen technology will make the phone six times stronger than normal device.
At last, the other 5 versions of Gretel A7 are available at $49.99 with 3 free gifts on AliExpress store here.
If you really like the A7, nothing should stop you from getting this handset at any time. Want to know more news about the blue and red edition? Stay tuned here!