(Auszug aus der Pressemitteilung)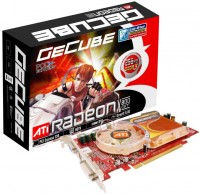 Taipei–Aug. 8, 2005 – Info-Tek Corporation, production supplier for the leading global graphics card brand GECUBE, announced today the release of the GECUBE RADEON® X800GT graphics card. The GECUBE RADEON® X800GT PCIe graphics card, which is equipped with the ATI X800GT core graphics chip, comes in 128 MB or 256MB memory versions priced at USD 179 and USD 219, respectively.
Compared to similar products on the market, the GECUBE RADEON® X800GT graphics card has become a hot topic for discussion in the industry – this "star product" leads its competitors by a wide margin both in performance and price. The X800GT supports 8-pixel pipelines and boasts a core clock speed of 475 MHz.
In the future, GECUBE plans to release DDR, DDR2, and GDDR3 memory modules, all of which will include GECUBE's proprietary Uni-WiseTM low-noise fan. GECUBE is also releasing a "high-power" overclocking version of the X800GT in limited quantities, which features clock and memory speeds of up to 500MHz. This version offers consumers a high-performance product at a low, competitive price.
Larry Yeo, General Manager of Info-Tek's Multimedia Business Unit said, "The GECUBE RADEON X800GT is the product that consumers have been waiting for. Info-Tek especially targets the needs of different consumers, using different memory structures while improving efficiency in all areas. GECUBE's prices have also become more competitive, making it the inevitable, high-quality choice for the gaming enthusiast."