(Auszug aus der Pressemitteilung)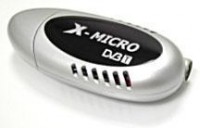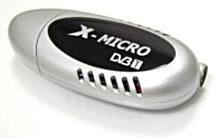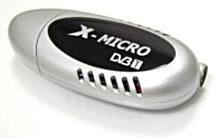 X-Micro TV-BAR DVB-T is the latest external & mini-sized DVB-T USB TV solution presented by X-Micro Technology. Not like other PCMCIA solution, X-Micro TV-BAR DVB-T adopts USB2.0 interface to provide users the flexibility of watching TV on PC or laptop. In addition, X-Micro TV-BAR DVB-T performs impressively in different aspects: Hardware design, Driver supported Software Features and friendly user interface.
Well-arranged in Hardware Design
X-Micro TV-BAR DVB-T adopts USB2.0 interface for user to enjoy digital TV in different platforms (PC/NB), and low-power consumption design makes it pass CE regulation and perform stability in different standards. In addition, it supports 1080i HDTV reception, like Austria SBC, X-Micro TTV, and 2006 World Cup in Germany. The most amazing thing is the mini design X-Micro TV-BAR DVB-T offers a very good sensitivity among peer products.
Although more and more small DVB-T products coming to the market, poor sensitivity make consumer to challenge DVB-T reception and return their product; and other bigger DVB-T product have a better sensitivity but ugly look. X-Micro TV-BAR DVB-T makes a good balance to have good sensitivity in portable mini size. For example, X-Micro pass Nordic DVT-T tuner sensitivity requirement, which means if Nordic user can not receive DVB-T, there will be no issue for X-Micro TV-BAR DVB-T and should be problem of signal environment. In addition, X-Micro has already designed active antenna support inside, which can be upgraded by software control.
Driver Aspect
X-Micro TV-BAR DVB-T provides both Windows WDM and BDA driver, which allow users to watch TV in Windows® 98/SE/ME/2000/XP; and compatible with third party's software, such as the famous Microsoft® MCE (Media Center Edition), Show shifter, Media Portal, Cyberlink® Power Cinema, Mytheatre…etc. Furthermore, X-Micro TV-BAR DVB-T co-work with Linux/MAC TV project to provide Linux driver in different Linux/MAC platform and application, like famous MythTV on Linux and iTele on MAC. Also, X-Micro Technology just releases 64 bite beta drivers for X-Micro TV-BAR DVB-T, and it is the first product for 64 bite Windows.
Software Aspect
X-Micro TV-BAR DVB-T bundles with DTV2.7x in their retail package. This software provides many features for meeting different users' demands:
Ordinary user
The main reason to buy TV tuner on PC is for watching TV. DTV2.7x provides easy setting methods for users who do not anything to watch TV on PC. Quick switch time and remote control supported let users experience "X-Micro TV-BAR DVB-T makes PC just like a personal TV set!" The other features like EPG, Teletext, Subtitle on OSD, SAP make users to enjoy TV much easier and comfortable.
Power User
Some users who buy PC TV tuner is to experience those features which traditional TV set can not support. For example, this feature SPDIF (AC3) makes user to connect their Dolby machine and enjoy Dolby sound easily. Also, signal utility function makes user to detect where best reception part is in their house and further to set up their roof antenna or other device properly. Multi-frame capture function makes user to capture continuous screen shots. There are more features are waiting for users to discover by themselves.
Busy user
Some users may not catch their favorite TV programs, however, standard PVR for TV set is too expensive and hard to use. DTV2.6x provides many ways for users to record their favorite shows. There are 3 recording modes:

Instant recording: Users can instant record programs by a click;
Schedule recording: User can record their favorite shows by pre-setting time and day, daily or weekly. The duration of pre-scheduled recording can be dated from 1 week ago.
nWake up recording: users can go out and let PC to record programs by suspend mode.
Moreover, the Direct Burn feature allows users to burn the instant/schedule TV program into DVD directly. When the show ends, the burning job is done simultaneously.