(Auszug aus der Pressemitteilung)


ePC945-m8

The AOpen ePC – 8 devices in one: PC, DVD player, Personal Video Recorder, audio CD player, internet set top box, FM tuner, AC3 decoder and PC game console! The ePC945-m8 is a high-performance PC and digital entertainment control center, integrating all your home AV equipment. The ePC has many breakthrough features that have never appeared in a traditional PC, such as simultaneous multi-channel TV viewing and recording, ultra-realistic picture quality through DVI and SCART (RGB) video output.

Socket LGA 775 – supports Intel Pentium 4, Pentium D, Celeron D, 533/800/1066MHz FSB (L2 cache on CPU)
Chipset: Intel 945G + ICH7DH with integrated graphics
Memory: 4 240-pin slots for DDR2 DIMMs (533/667MHz; max expansion 4 GB)
Thermal environment: proprietary thermal modul supports 130W Intel CPU
Expansion slots: 2 PCI slots and 2 PCI Express slots (one 1X and one 16X slot)
TV card uses PCI slot and ADD2 card uses PCIe 16X slot
Audio: HD Audio Codec ALC880 (7.1-channel audio)
Onboard connectors: IDE, FDD, USB, CD-in, SATA-II
Front panel includes: AVD9-U display, 11 in 1 Card Reader, AV Keypad
Front panel connectors: USBx2, 1394×2, Mic, Earphone, SPDIF out,
Rear panel connectors: Serial, USB, VGA out, SPDIF out, Add2 support DVI, Scart Out (Composit & RGB)
Fast Ethernet: Intel 10/100LAN
Storage capacity: 1×5.25″ ODD, 2×3.5 HDD
Dimensions: 89(H) x 325(D) x 430(W) mm
Housing material: Aluminum, PC+ABS and SECC
PSU: 375W switch power supply
Volume: 11.48 liters
Weight: 4.2kg (net weight of bare system)
miniPC MP945
With the introduction of the miniPC in the fourth quarter of 2005, the most compact PC ever, AOpen continued its miniaturized personal computing innovation. The launch of the unique miniPC testified the strong R&D capability of AOpen and demonstrated that the product development expertise of the company still has a leading position in the world.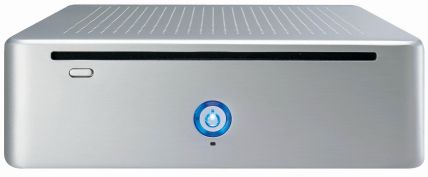 In Europe, the first generation miniPC was brought onto the market as a fully built system by AOpen's partners. Now, the 2nd generation miniPC with Intel Viiv technology is being prepared. Sample availability is estimated for end of Q1. For the preliminary technical specifications of the 2nd generation miniPC, see below.
Socket 479 – supports Intel Yonah Celeron M CPU 667/533MHz FSB (L2 cache on CPU)
Intel 945GM + ICH7M-DH with integrated graphics
1 slot DDR2 SO-DIMM for 667/533MHz. Up to 1GB of memory in total.
AOpen mini thermal module
Slot-in ODD (superMulti or Combo)
AC'97 codec: 5.1-channel audio
Onboard I/F: IDE, USB, SATA, mini PCI
Front panel connectors: hidden Mic, power button, ODD slot
Rear panel connectors: mic, speaker, USB x2, 1394, RJ45, Composite-Y/Pb/Pr-S-Video, DVI, DC-in, SPDIF
Fast ethernet: Intel LAN 10/100/1000Mb
Form factor: miniPC proprietary F/F
Housing material: aluminum and ABS
Adapter: 65W, 19V/3.5A
Dimensions: 50(H) x 165(L) x 165(W) mm
Volume: 1.36 liters
Weight: 1.1kg (net weight of the bare system)
Optional feature: built-in wireless (miniPIC), bluetooth (USB) or built-in MCE infrared receiver