(Auszug aus der Pressemitteilung)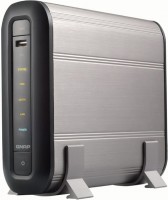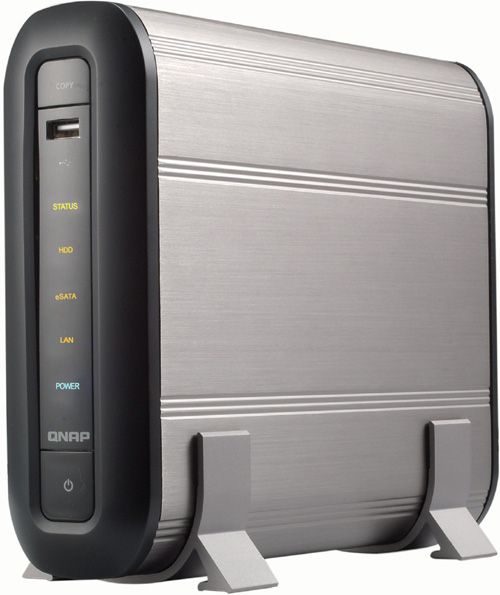 Taipei, Taiwan, January 2006 – The national leading Network Appliance producer QNAP Systems, Inc. has released Turbo Station (TS) speedy series TS-101?9-in-1 multimedia storage genius for data storage demand of mobile business parties, family and SOHO users. The elegant silver, rocket-like and vertical desktop appearance of TS-101 displays a sense of high technology. The fanless design and hard disk sleep mode provide users a silent working and leisure environment. TS-101 is a simple-to-use, high speed and reliable cross-platform NAS for centralized sharing of data, instant disk backup, remote replication and disaster recovery etc. The server also provides powerful mechanisms like built-in P2P download station, personal web server, digital album and printer server to provide incomparable value-plus benefits.
Value-plus additional functions to enjoy life of technology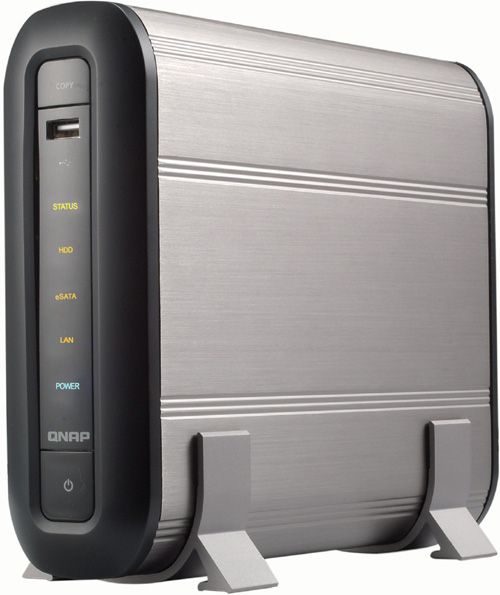 Light and fashionable, TS-101 has built-in web server function for uploading static web pages and establish a personal website! TS-101 also provides mighty digital album function for administrator to edit and upload photo description. Tree-structure folder layout, thumbnail and slideshow display enable your friends and family to preview the photos and play slide show online easily! TS-101 also serves as a P2P download station. User can simply edit the download list of TS-101 via PC and turn off the PC to save power and let TS-101 finish the download tasks independently. This utilizes network bandwidth during idling time and establishes multimedia data storage center.
When enjoying the various benefits of technology, a multi-language web interface is embedded to simplify configuration. Users can finish configuration easily in 3 minutes. The new generation built-in high speed SATA disk supports enormous storage space of up to 500GB for centralized storage of large amount of digital photos, music, video, design sketches and data files. Via eSATA or USB dual interface, data storage can be expanded to TB or above. eSATA is the advanced transfer standard released in storage industry to enhance transfer efficiency. The transfer speed can be 6 times faster than USB 2.0 interface. Moreover, TS-101 supports high speed Gigabit network transfer technology to greatly reduce transfer time. In addition to network data transfer interface, TS-101 also provides 3 high speed USB 2.0 ports for users to conveniently connect other USB devices like external hard disk, digital camera, thumb drive, card reader and sharing printer. An intelligent one touch copy mechanism and FTP upload & download function provide users with simple and variety data transfer function.
Enterprise-level backup mechanism for data security
Apart from file storage sharing function, TS-101 provides 3 different data protection mechanisms for users that general miniature NAS lacks of. Firstly, you can use the enclosed powerful and simple-to-use client-side backup software?NetBak Replicator to configure instant or scheduled backup to back up data from PC and notebook to TS-101 automatically. Secondly, TS-101 has embedded professional block-level and high performance backup mechanism to configure instant/schedule/monitor backup of TS-101 data to another NAS. Finally, TS-101 provides Q-RAID 1 unique mirroring (RAID 1) disk management function for backup of TS-101 data via external USB or eSATA disk.
TS-101 is affordably priced as personal NAS with enterprise-standard data backup protection. It can be the backup center of individual digital data and reliable data solution for SOHO, SMB or large-scale enterprise. Data on PC and notebook can be backed up anytime to ensure protection of important data. TS-101 helps users to avoid data damage and lets them enjoy the real pleasure brought by technology.
Main Features:
Multi-language web management interface, easy-to-operate and simple configuration
Supports new generation high speed SATA disk of extra large storage capacity, up to 500GB
Excellent heat release design, no system fan and hard disk standby mode for absolute quietness
3 high speed USB 2.0 (480Mbps) ports for connection by USB devices like external hard disk, digital camera, thumb drive, card reader and sharing printer for multiple usage
Super convenient one touch auto USB copy of digital photos/ mp3 independent of PC
eSATA port for external storage device for instant expansion of storage capacity
Broad bandwidth Gigabit Ethernet for speedier data transfer and enhance transfer rate
Supports Windows & MAC OS for uninterrupted cross-platform communication
Provides multiple convenient backup mechanism:
Remote replication? Built-in professional block-level remote replication for TS-101 to backup data on TS-101 to another NAS instantly or by schedule.
Hard disk instant backup? Provides QNAP unique Q-RAID mirroring technology to connect external USB/ eSATA disk for instant backup of TS-101 data.
Client-side data backup? Windows users can use the powerful backup software NetBak Replicator to backup data on PC or notebook to TS-101 instantly or by schedule