(Auszug aus der Pressemitteilung)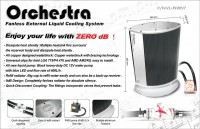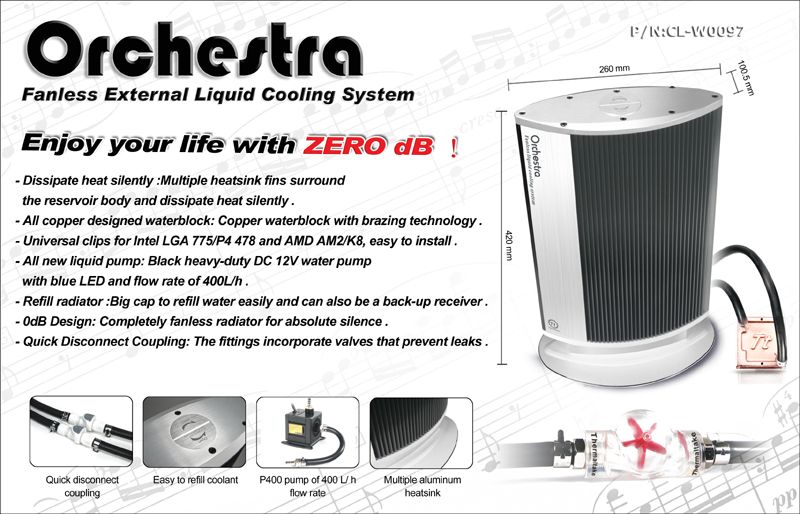 September 2006 – Taipei, Taiwan – As enthusiasts are more demanding with computer operation noise levels than ever, the traditional air cooling devices are no longer keeping up with the mainstream performance of the market. Recently, liquid cooling systems have been creeping up and taking over the cooling market of the build-your-own (BYO) computer systems enthusiasts. Eventually, liquid cooling systems will usurp the majority of the market share from the air cooling systems. Thermaltake Technology is ready for the change. The new silent liquid cooling system, the Orchestra, is a fanless liquid cooling system that radiates class and beauty. The all-aluminum external fins and the gorgeous curves of the Orchestra will leave the enthusiasts breathless.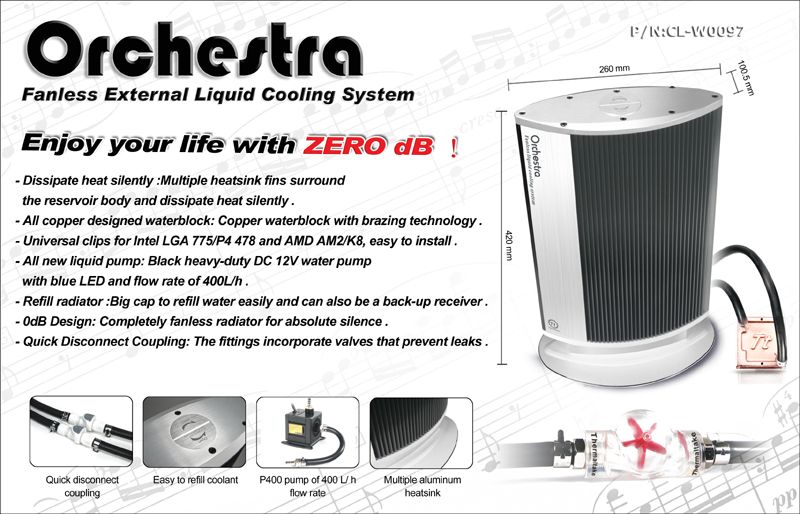 In order to create a near zero decibel operation environment, the Thermaltake Orchestra is equipped with oversized radiator fins, all-aluminum enclosure, and the following elements:
A 4-in-1 all-copper CPU waterblock: This waterblock is designed from the latest state-of-the-art silver brazing technology. The brazing technology enables the waterblock to be corrosion-resistant, pressure-resistant, and guaranteed leak-free. The waterblock incorporates a maze routing design to maximize the flow and surface area between the waterblock and the coolant. The patented clipping design is suitable for Intel LGA775 / P4, and AMD AM2 / K8.
High-efficiency P400 12V pump: The same favorite pump used in the BigWater 735 and 745 series. The pump supports up to 400 litres per hour and has built-in blue LED. The low volume output of the pump is rated at 16 decibels and will not be heard during normal computer usage.
High-capacity reservoir: The Orchestra has a 3,000cc reservoir built in. The reservoir is part of the main unit, thus, while the reservoir is holding coolant, it is cooling passively at the same time. The internal coolant flow logic will efficiently pass the heat to the outside of the Orchestra.
Clear water flow indicator: In order for the external appearance to be beautiful and functional at the same time, the Orchestra has incorporated a clear flow indicator that can easily be viewed from the outside to see how the coolant is flowing at any time.
Easy-fill cap: The Thermaltake logo alloy reservoir cap enables the user to easily refill the coolant whenever the coolant is low. The ergonomic design is simply superior to any of the external liquid cooling systems on the market.
CPC quick connectors: Enthusiasts will never need to worry about re-routing the coolant tubing since the easy-to-use CPC quick connectors will pop off quickly and easily without causing any spillage, protecting your investments.