(Auszug aus der Pressemitteilung)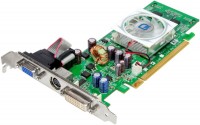 What A Credit with Little Giant H.264 Decoding – Leadtek WinFast PX8400 GS TDH
(Excerpt from press release)
Taipei, Taiwan, June 20th, 2007 – Leadtek Research Inc., known globally for extreme visual graphics technology development, today launched a brand new entry-level graphics card, the WinFast® PX8400 GS TDH. This new card, featuring vivid image quality and a friendly price, again hits a bull eye for extreme value and advanced performance boosted by H.264 hardware decoding.
Based on new 80nm technology and powered by NVIDIA® GeForce® 8400 GS graphics processing units, the WinFast PX8400 GS TDH comes with 256MB of video memory, DDR2 and a GPU/Memory clock with a memory setting of 450/800 MHz.. Besides, it provides Microsoft® DirectX® 10 with full Shader Model 4.0 support to deliver unparalleled levels of graphics realism and film-quality effects.
As one of the cards most expected features, the WinFast PX8400 GS TDH's H.264 hardware decoding plays an important role among USPs (Unique Selling Points). It speedily delivers high definition image quality on any display but with minimal CPU usage. More to the point, WinFast PX8400 GS TDH takes NVIDIA® PureVideo™ HD technology to unprecedented levels of picture clarity, smooth video, accurate color, and attractive image scaling for movies and videos. And going for HDCP (High-bandwidth Digital Content Protection) support, PX8400 GS TDH allows for playback of encrypted movie content, providing lifelike images when connected to HDCP-compliant displays.
The new card also complies with the NVIDIA® Lumenex™ Engine to offer stunning image quality and floating point accuracy at ultra-fast frame rates. When it comes to state-of-the-art high dynamic range (HDR) lighting, it enables complex effects for cinematic reality, bringing environments to life for a quite incredible and ultra-realistic experience.
WinFast PX8400 GS TDH struts powerful multimedia appeal and supports TurboCache™ technology to share the capacity and bandwidth of dedicated video memory and dynamically available system memory for larger total graphics memory. With NVIDIA® Quantum Effects™ technology, physics effects are taken to a new level of simulation and rendering on the GPU. The card's GigaThread™ technology massively supports thousands of independent, simultaneous threads, maximizing GPU utilization to provide extreme processing efficiency in advanced, next generation shader programs.
Built for the hottest operating system "Windows Vista™", WinFast PX8400 GS TDH guarantees 3D acceleration for the general graphical user interface with high-end results. When it comes to competitive pricing, a major concern for users, the WinFast PX8400 GS TDH again comes out on tops. For an entry-level graphics card all these high quality function add up to its being a "real little giant."
Specifications