(Auszug aus der Pressemitteilung)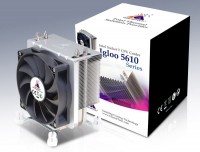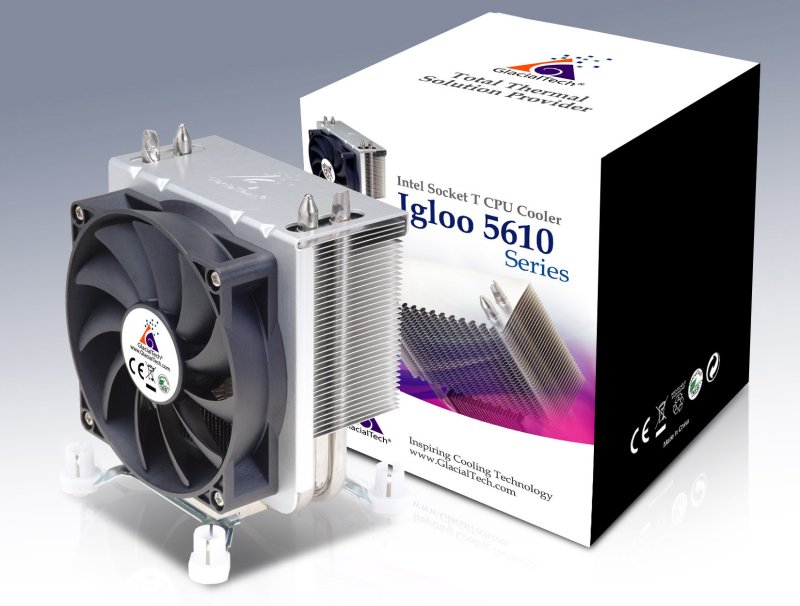 24 October 2007 – GlacialTech® a world class provider of cost effective cooling components and chassis launched the latest IGLOO 5610 PWM CPU cooler and IGLOO 5610 Silent CPU Cooler for Intel CPU's. The unique design incorporates a specially aligned aluminum heatpipe combination of two pipes that dissipate the heat from the CPU directly into the heatsink fins. From there, the Silent version's fan quietly and efficiently brings the temperature down. The low decibel (19dB), high volume (30.8 CFM) fan is 80mmx80mmx25mm and runs at an ultra-quiet speed of 1800 RPM.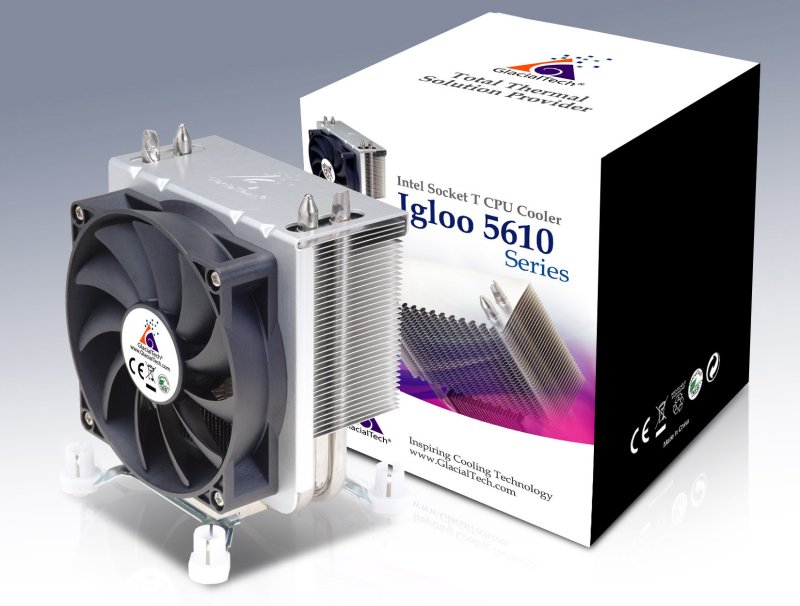 Unlike the Silent version of this series, the PWM version has an 80mm×80mm×25mm adjustable speed fan which brings the temperature down according to your needs, The fan ranges in speed from 800~3200RPM, with a maximum volume throughput
of 51.3CFM. The Fan puts out 34dB maximum at full revolutions. The entire heatsink (both versions) keeps a relatively low profile and only weighs in at 373grams (Well within Intel's safe CPU specification of 550 grams for a CPU cooler).
With today's power hungry computers, GlacialTech has implemented a cost effective and useful way to keep your processor cooled. When doing resource hungry applications and you have the PWM version installed, turn up the RPM to 3200 to manage
your heat dissipation more effectively. While the PC is in idle or doing non-intensive work, turn the RPM back to 800. In this way you manage your power consumption, your decibels and your overall peace of mind. Alternatively users have the option to purchase the Silent version; GlacialTech gives you the variety and options to suit your needs.
As a total thermal solution provider, GlacialTech® is committed to bringing increased value to customers in a quiet working environment. The IGLOO 5610 PWM and IGLOO 5610 Silent are the next step in your evolution to an ultimate light weight, low cost CPU cooler for your system.
Price performance, noise performance and weight performance are GlacialTech's three principle design philosophies. Having acquired ISO 9001 and 14001, GlacialTech commits itself to using green materials for its product design and construction and to perfecting green manufacturing processes in manufacturing its products.
This IGLOO 5610 PWM CPU cooler supports the following Intel processors from the LGA 775 CPU socket standard:

Highlighted Features
Quality Aluminum design with Copper base
Heatpipe-fin-airflow combination with Patented Engineering principles
PWM version: Enhanced speed adjustable Fan (800-3200 RPM)
Silent version: Silent performance (19dB)
As a total thermal solution provider, GlacialTech® is committed to bringing increased value to customers through the creation of
light weight cost effective systems, and a quiet working environment with an optimal price performance benefit.