(Auszug aus der Pressemitteilung)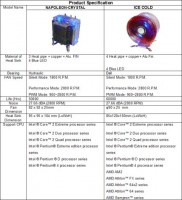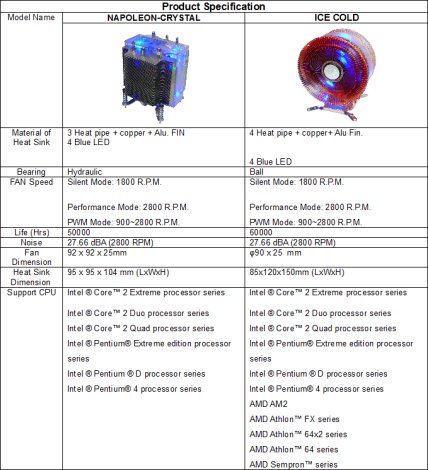 Soonest AVC will present you the astonishing & innovative products of CPU Cooler Series with virtuosic design. Features with corresponding CPU systems, NAPOLEON-CRYSTAL, and ICE COLD reach the ultimate attainment in many aspects. Being the best partner of INTEL & AMD, AVC brings you everything of thermal solution to make her as the largest supplier of CPU cooler throughout the world.
NAPOLEON-CRYSTAL is one of the representative models with the crystal fan equipped with blue LED. The simplicity design with stylish looking can efficiently transfer the heat to the fins and maintain the temperature for high-performance computing and stable operation, based on AVC patent technology of Hydraulic bearing. This Hydraulic technology can reach the ultimate balance among noise, efficiency, and product life. NAPOLEON-CRYSTAL is also an excellent model offering exceptional function at an affordable price, which makes it a wise choice.
ICE COLD delivers the remarkable features with outstanding performance. It incorporates mirror copper base, four radial heat pipes, aluminum fins and 9cm PWM fan as well, which can control processor temperature at the most suitable levels. This sphere design for larger heat exchange area has the extraordinary performance of heat dissipation, and supports the multiple platforms of Intel and AMD. ICE COLD looks more stylish & elegant with sphere design and also more practical judged by its long life with ball bearing design. Outside, it's a work of art; inside it's all the heat dissipation. ICE COLD will definitely be your best choice.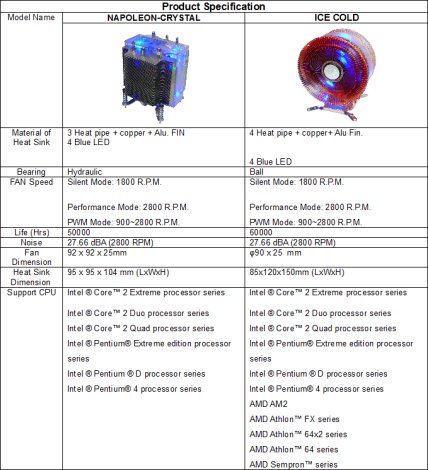 AVC BRAND SLOGAN for DIY MARKET
A, V, C individually stands for the abbreviation and the concept of the "ADVANCE", "VALUABLE", and "CARE". The slogan of AVC brand delivers the "Advanced & Valuable Care" for your PC World, which includes "3Care" categories in 2008 as below;
1 "Care" for PC "Cooler Series": Cooler for CPU, VGA, Hard Disk, Notebook
2 "Care" for PC "Case Series"
3 "Care" for PC "Cable Series"