(Auszug aus der Pressemitteilung)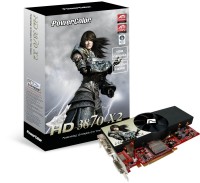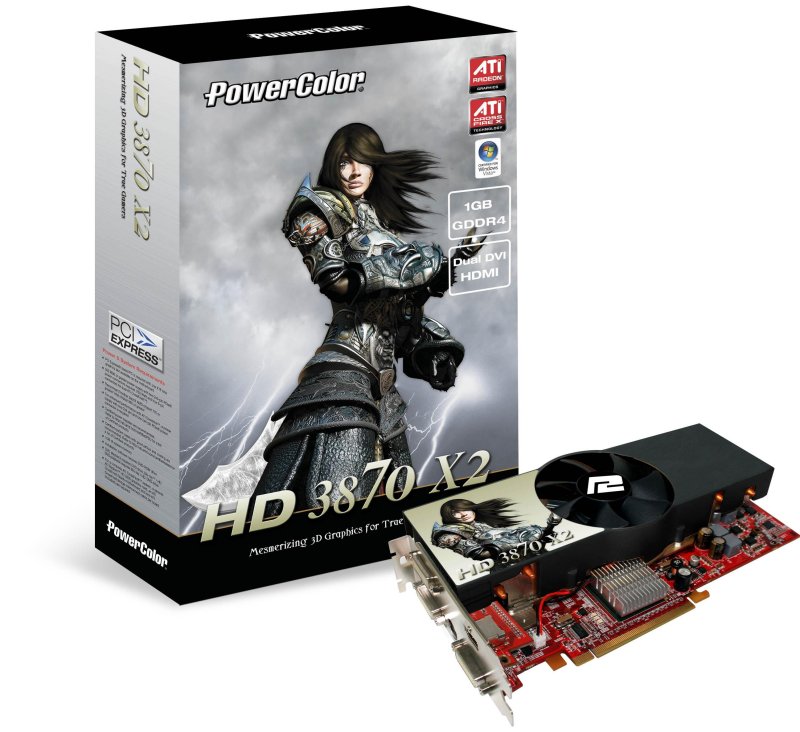 Hannover, Germany – March, 4th, 2008 – TUL Corporation, a leading manufacturer of AMD graphics cards, today announced that it is introducing a high-end graphics solution, PowerColor HD 3870 X2 with Samsung GDDR4 memory that is designed to bring incredible performance and life-like graphics to all gamers.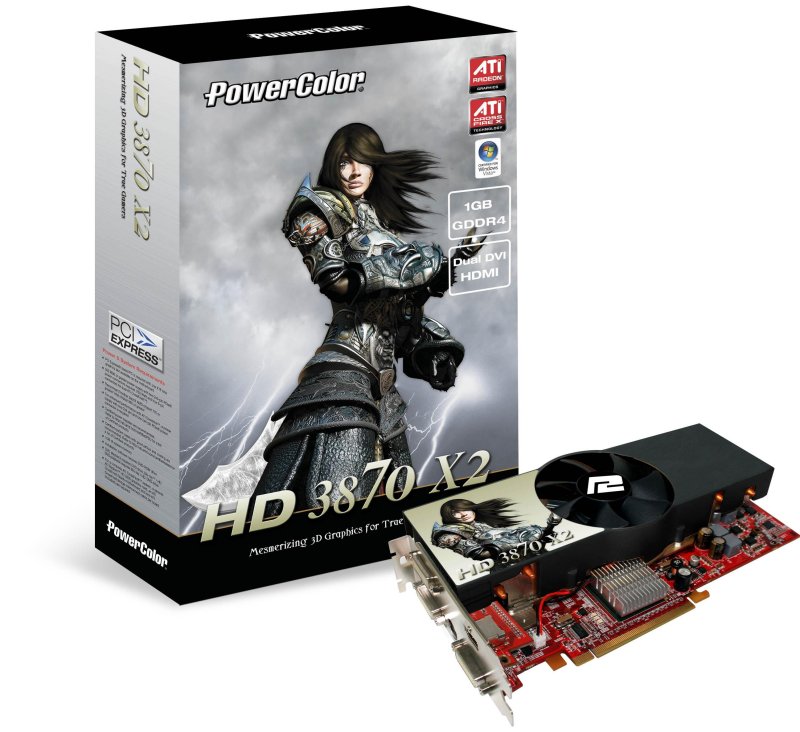 Providing stunning graphics, PowerColor HD 3870 X2 GDDR4 comes equipped with the fastest graphics memory now produced – Samsung's 16Mx32 GDDR4 memory, which has an effective memory speed of 1126 MHz. The video card also boasts a built-in Dual HD 3870 GPU that clocks at a core speed of 825MHz and an effective memory speed of 1126 MHz. This combination of leading-edge graphics memory and state-of-the-art GPU, essentially doubles the performance of the original version of the card. The new PowerColor HD card further enhances the gaming experience with 640 (320×2) stream processing units and 2X256-bit memory interface.
The card also features three DVI outputs and one HDMI output with 5.1 surround audio support and comes equipped with PCS fansinks for both GPUs – ensuring efficient heat dissipation. Furthermore, the new card offers Microsoft® DirectX® 10.1, Shader Model 4.1, a Universal Video Decoder and ATI CrossFireTM X technology. The PowerColor HD 3870 X2 comes bundled with iClone 2 SE software, which provides the technology for creating full-motion 3D avatars and video story-boarding.
"We are pleased to cooperate with Samsung to deliver the world's fastest HD 3870 X2 graphic cards. Fans of Samsung memory and PowerColor video cards are sure to be excited," says Ted Chen, CEO of TUL Corporation.
"Frankly, gamers around the world should be highly impressed with the quality of imagery generated by the PowerColor HD 3870 X2, said Mueez Deen, director, graphics memory, Samsung Semiconductor. "TUL has designed a graphics card that we expect will be popular with gamers around the world," he added.
Key Features
825MHz Core, 1126MHz Memory
1GB of GDDR4 Memory
2 x 256-bit Memory bandwidth
640 (320 x2) stream processing units
DirectX® 10.1 / Shader Model 4.1 support
ATI CrossFireX™ multi-GPU support
Built-in HDMI and 5.1 surround audio
Unified Video Decoder (UVD) for Blu-ray™ and HD DVD