(Auszug aus der Pressemitteilung)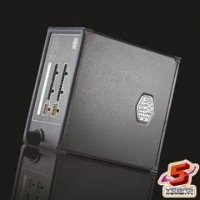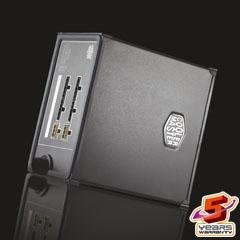 Taipei, June 13, 2008 – Noise pollution is an escalating problem in both the home and office.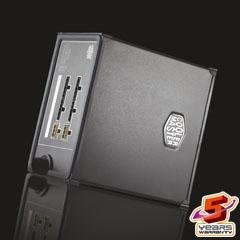 Combined with the increased demand for media-centric PCs, total noise generation is becoming a major focus for computing enthusiasts. As a leader in PC power supplies, the engineering minds at Cooler Master have developed the Silent Pro Series. Featuring a superior thermal solution, a highly efficient circuit design, and value-added accessories, the Silent Pro Series and its "silent formula" set a new standard in silent computing, generating a noise level of less than 16 dBA.
The Silent Pro Series is based on three main components, which together form the Cooler Master Silent Formula. The first component is a highly-efficient circuit design that not only reduces the overall heat generated, but reduces the amount of power lost during the energy conversion process.



In fact, the Silent Power Series delivers power efficiency of 85% or more, which means that more of the power that is being used is put towards actually powering the system. With this design, users can enjoy a quieter system since lower heat generation means that fans don't have to spin as quickly. In addition, less power is wasted means lower power consumption and lower electric bills, saving users money while minimizing environmental impact. In fact, all Silent Pro Series power supplies come with 80 PLUS® certification which guarantees high efficiency, and meet Energy Star, Blue Angel, and RoHS requirements.
The second component is a specially designed thermal solution. The Silent Pro Series begins with unique "hot spots" that draw heat away from hot areas of the PCB to a series of copper plates. These copper plates conduct heat almost twice as well as traditional aluminum. This heat is then transferred to a series of aluminum heat sinks that excel at dissipating heat thanks to a fin design that maximizes surface area. From there, a huge 135mm fan blasts away heat by delivering 1.5 times greater airflow than conventional 120mm solutions. This fan comes with an intelligent fan controller that adjusts the speed of the fan according to temperature, which dramatically decrease noise levels by automatically slowing down the fan when the system is not under load. Finally, heat is exhausted away through a unique honeycomb outer casing that minimizes airflow resistance for silent and effective cooling.
Silent Pro Thermal Solution


The third and final component of the Cooler Master Silent Formula is a selection of accessories that come with each and every Silent Pro PSU. Two silicon rubber pads help to eliminate noisy vibration when installed. Silent Pro PSUs utilize a modular cable management system, which allows users to install only the cables that are required. Cooler Master also provides flat modular cabling with each Silent Pro PSU. The combination of a modular design and flat cabling only makes things neater inside the case, but also helps minimize airflow resistance for less noise and better thermal performance.
Value-Added Accessories


Of course, every Silent Pro PSU meets Cooler Master's stringent quality standards. Each one complies with Intel's ATX 12V v2.3 standard for increased compatibility. Cooler Master also utilizes Japanese-made capacitors for ultimate reliability, and each one comes with Cooler Master's industry-leading 5-year warranty.
With the Cooler Master Silent Formula, the Silent Pro Series redefines the silent computing standard. Is excessive PC noise driving you insane? Pick up a Cooler Master Silent Pro PSU. You won't hear it working, but your system will know it is.