(Auszug aus der Pressemitteilung)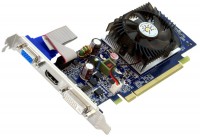 Taipei, Taiwan – October 12, 2009 – SPARKLE Computer Co., Ltd., the professional VGA card manufacturer

and supplier, today introduced the SPARKLE GeForce 210 Graphics Card. Based on 40nm GeForce 210
graphics chip,SPARKLE 210 Graphics Card with more compact size to bring impressive graphics processing
power for entry-level users and HTPC enthusiasts.
Advanced Rendering Architecture
Based on NVIDIA's latest generation architecture, the SPARKLE GeForce 210 Graphics Card adopts
innovative unified architecture, dynamically allocates processing power to geometry, vertex, physics, or
pixel shading operations, delivering superior graphics processing power. Built upon technologies such
as NVIDIA Lumenex Engine, providing support for DirectX 10.1 Shader Model 4.0, NVIDIA Quantum
Effects technology for physics computation and GigaThread Technology for extreme processing
efficiency in advanced, next generation shader programs.
40nm Process
Taking the power consumption and performance increase into account, SPARKLE GeForce 210
Graphics Card features 40nm chip process from TSMC. The advanced 40nm process significantly
reduces the power consumption and GPU core temperature of the SPARKLE GeForce 210
Graphics Cards, making them to be energy-saving products and protecting our enviroments.
Thanks to the 40nm process, the SPARKLE GeForce 210 Graphics Card feature higher working
speeds, the core speeds are raised to 589MHz, the shader clocks are raised to 1402MHz, these
speeds exaltation can brings amazing floating point processing power for good gaming performance
and powerful performance ever from the unit area of the chip!
512MB Large Video Memory
Today's game, such as Crysis, Alone in the Dark 5, Stalker: clear sky, they normally use a large
number of bump texture, transparent texture to describe faces of characters and render realistic
gaming scenes, so these games put higher demands on the capacities of video memory. The
current situation demands at least 512 MB video memory to run these games. SPARKLE GeForce
210 Graphics Card come with 512MB large DDR2 video memory can let users to pass the 3DMark
Vantage High Test which strictly demand at least 512MB video memory, providing much more
detail information to users for better understanding its graphics capability.
Low Profile Design
Consummately designed low profile, the PCB height of SPARKLE GeForce 210 Graphics Card is
6cm,only half the height of ordinary Graphic Cards with full profile design, which makes SPARKLE
GeForce 210 Graphics Card to be the best partners for HTPC. HTPC enthusiasts don't need to
worry about the inconvenience caused by narrow space chassis and full profile designed graphics
cards. With low profile design, SPARKLE GeForce 210 Graphics Card not only can easily meet the
HD video playback and DX10 gaming demand from HTPC users, but also can easily satisfy the
requirements from SSF, mini-chassis and industry PCs which demand compact and practical
graphic cards.
Cooling System
Exquisitely made cooling fans which have high performance thermal compound ensures optimal
thermal dissipation even after years of use.
Experience Vivid DX10.1 Graphics
Experience the vivid DX10.1 gaming graphics at good frame rates, or go beyond traditional 3D
graphics experience , Stereoscopic 3D, and lightning fast video and image processing. All you need is the SPARKLE GeForce 210 Graphics Card with full DirectX 10.1 and full Shader Model 4.1 support, delivering unparalleled levels of graphics realism and film-quality effects.
Premium Windows 7 Experience
Graphics cards are an essential element of today's PCs, enabling more visual and more interactive experiences. As a leading manufacturer in graphics cards market, SPARKLE worked closely with Microsoft on the development of Windows 7 to ensure that its graphics cards take full advantage of the great new features and functionality. If you use your PC to enhance photos, watch or edit videos, play
games, or if you simply desire a fast and efficient graphical interface, SPARKLE GeForce 210 Graphics Card will surely delight your senses and offer a premium experience for Windows 7.
Direct Compute and OpenCL Support
SPARKLE GeForce 210 Graphics Card fully supports Direct Compute, Microsoft's GPU computing
API and OpenCL GPU computing API made and released by Khronos Group. Direct Compute and
OpenCL let any application tap into the vast gigaflops of GPU computing power previously available
only to graphics applications.
2nd Generation Pure Video HD
With 1080p support HDMI output, SPARKLE GeForce 210 Graphics Card has High-definition video
decoder and post-processor which delivering unprecedented picture clarity, smooth video and
accurate color for movies and video. Hardware decode acceleration provides ultra-smooth playback
of H.264, VC-1, WMV, DivX, MPEG-2 and MPEG-4 HD and SD movies without the need for a dual
or quad-core CPU. Dual-stream hardware acceleration supports picture-in-picture content for the
ultimate interactive Blu-ray and HD DVD movie experience.
NVIDIA™CUDA Technology
CUDA technology unlocks the power of the GPU's processor cores to accelerate the most
demanding system tasks such as video transcoding delivering up to 7x performance over traditional
CPUs.