(Auszug aus der Pressemitteilung)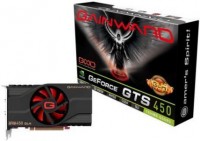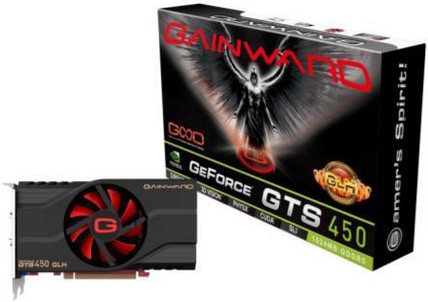 September 13th, 2010 – A clap of thunder reverberates in the celestial space, announcing the overture of Gainward GeForce GTS 450 (GF106). Gainward GTS 450 "Golden Sample"-Goes Like Hell (GS-GLH), glittering with stunning lightning, piercing the sky, spreading thunderous and threatening voice to shock the world. With a competitive price, new-born GeForce GTS 450 inherits the revolutionary technology, and GF106 architecture is bound to outshine and convulse its rival, the red camp HD 5750 in every single way even exceeds HD 5770 in DirectX11 performance. Gainward GTS 450 1G "GS-GLH" is now leading the family members, "Golden Sample" (GS) and standard version, and providing various choices for those who are ready to shock the world with us!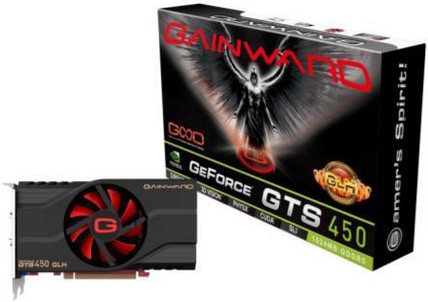 The golden child was chosen as it has passed the most critical burn-in tests. Each Gainward GeForce GTS 450 1GB "GS-GLH" and "GS" operate the most extreme clock rate and ensure the best stability under aggressive over-clocking. Gainward invent GTS 450 1GB "GS-GLH" over-clocked approximately 18% from 783MHz to 930MHz with 192 CUDA Cores for high speed 1GB GDDR5 128 bits memory bank, and the equivalent bandwidth is 64GB/sec. It is absolutely rare! With this extraordinary over-clocking ability, Gainward GeForce GTS 450 1GB "GS-GLH" provides superlative gaming thrills and delivers ultimate gaming experience to all of the game lovers.
While its DirectX10 performance exceeds 8% higher than HD5770, its DirectX11 performance is up to 22% higher than HD5770. Gainward GTS 450 1GB "GS-GLH" amazing outperformance with its leading quality completely meets the most demanding gamers'. Moreover, the outstanding cooling system of "GS-GLH", Gainward Grand Prix(GP) Heat-pipes Cooler made by pure copper base, and ventilated by Great 8 cm Fan (GR8) can effectively decrease the temperature and excessive heat. It continuously provides the maximum stability and longevity while high frequency operating.
The family product, Gainward GTS 450 1GB "Golden Sample" offers an astounding C/P value (Capability over Price), making it the most cost effective GTS 450 edition. However, the quality is never compromised. The synonym of high performance, Gainward GeForce GTS 450 1GB "Golden Sample" is also expected to be well received by the gamers all over the world. Every single "Golden Sample" has gone through the same strict burn-in test and is able to deliver spectacular reliability and performance. It has excellent quality with pre-over-clocked at 880 MHz in Cores, 1,950 MHz for 128 bits high speed 1GB GDDR5 frame buffer. Gainward GTS 450 1GB "Golden Sample" can not only beat HD 5770 at DirectX10 but also outperforms it proudly by 17% at DirectX11. It's without a doubt that Gainward GTS 450 1"GB Golden Sample" has the performance, sustainability, and most importantly depth of your pocket.
Last but not the least, Gainward GeForce GTS 450 high speed 1GB GDDR5 standard version inherits the ambitious C/P value (Capability over Price) to threaten HD 5750, even HD 5770 on a good scale! Its DirectX11 performance defeats both by future-proof GF 106 architecture, which fully adopts all DirectX 11 state of the art technologies. You also can enjoy extra NVIDIA exciting futures – PhysX, CUDA & 3D Vision and NVIDIA Surround. It leaves lots of head room for exercising over-clocking maneuver by Gainward awarding winning Expertool utility.
Regardless of its cheaper price tag, Gainward generously equips QuattroPorts (HDMI, Dual Dual-Link DVI & legacy VGA ports) on the entire Gainward GeForce GTS 450 lineup from top to bottom. Capped with GR8 Fan and rugged Japan-made solid-state capacitors, Gainward GeForce GTS 450 1GB retains excellent thermal performance and great stability.
Have you ever been shocked by the thunder? Gainward GeForce GTS 450 1G "GS-GLH" leading "GS" and standard version with the fury of thunder is convulsing the world. Gainward GTS 450 Fermi architecture series will be the latest exciting and hot selling products, extending thunderously to more audiences.