(Auszug aus der Pressemitteilung)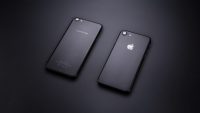 Comes as an $80 "iPhone 7", it doesn't mean that UMIDIGI G is having a less quality build than the iPhone. In fact, it is a rare thing to find a high quality build smartphone like this at this price range. UMIDIGI G offers more than what you can expect with the price.
We have learned something from the video that shows how UMIDIGI G manufacturing process goes. It has gone through multiple refining process and tests to ensure its quality at best.
The new polycarbonate polishing technology gives UMIDIGI G the fresh matte black color like the iPhone and also a verisimilar metallic touch feeling. By doing so, the weight of UMIDIGI G has also been greatly reduced to a mere 135.5g, which can offer a rather comfortable lightweight grip in hand.
In this new video, UMIDIGI brings us more details of UMIDIGI G design, and also the detailed comparison with iPhone 7. Take a look and you will find that UMIDIGI G really nails the iPhone aesthetic and design, but with a much much more affordable price. UMIDIGI is probably the most studious manufacturer that makes every phone wholeheartedly no matter in what price range.
Now you can get UMIIDIGI G with $20 off by subscribing on their official website here.