(Auszug aus der Pressemitteilung)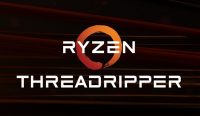 Sunnyvale, Calif. 7/30/2017 – ​The reenergizing of the high-end desktop (HEDT) market is much closer today with the announcement by AMD (NASDAQ: AMD) of Ryzen™ Threadripper™ global pre-order availability, with an Aug. 10th on-shelf date for the 16-core Ryzen Threadripper 1950X and 12-core 1920X processor models. Building on the 2017 introduction of 9 award-winning Ryzen™ desktop processors, AMD is delivering on the promise of more cores and threads with Ryzen™ Threadripper™, a "Zen"-based CPU with up to 60 percent more cores than any previous HEDT processor1, including leadership I/O bandwidth. Designed to bring innovation and competition back to the full spectrum of PC markets, the high-performance Ryzen CPU architecture delivers uncompromising performance in Ryzen Threadripper, delivering advanced feature sets, increased efficiency, and leadership2 performance on today's most demanding PC workloads.
"Our goal with Ryzen has always been to bring innovation and excitement to our customers. With Ryzen™ 7, 5, and 3 processors, AMD changed the game and ensured users across every segment of the market received the best technology, prices and overall experience," said Jim Anderson, senior vice president and general manager, Computing and Graphics Group, AMD. "To complete the Ryzen™ family, we kept the best for last. Ryzen™ Threadripper™ positions AMD at the forefront of this exciting market for high-performance PCs, resulting in a platform that offers the highest echelons of consumers– from data scientists to video creators to gamers – complete and uncompromising performance."
AMD Ryzen™ Threadripper™ Lineup
In addition to the previously demonstrated 16-core and 12-core options, AMD also announced an 8-core Ryzen Threadripper 1900X with a base clock of 3.8 GHz, a boost clock of 4.0 GHz, and the full feature set of the X399 SocketTR4 platform with 64 PCIe® lanes.

Pre-Sales & Availability
On July 27th, pre-orders for Area-51 Threadripper™ Edition from Alienware, as well as extreme performance SI systems featuring Ryzen™ Threadripper™ became available. In addition, for customers eagerly awaiting these high-performance processors, etailers around the world are primed to begin taking pre-orders beginning July 31st, specifically for the 16-core, 32-thread Ryzen™ Threadripper™ 1950X and the 12-core, 24-thread 1920X CPU. On-shelf availability for these CPUs is expected on August 10th. In addition, the 8-core, 16-thread Ryzen™ Threadripper™ 1900X is expected to launch on August 31st.
Participating vendors* include the following, with a more complete list available here: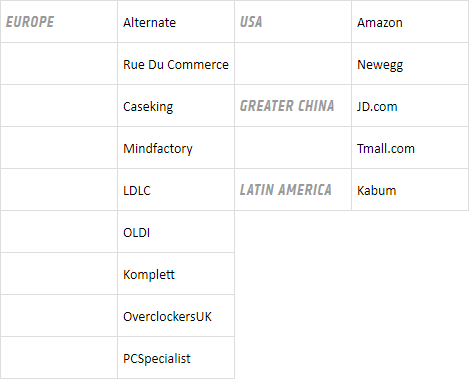 All AMD Ryzen™ Threadripper™ processors are supported by a full ecosystem of X399 platforms at launch, with motherboard designs already available from top motherboard manufacturers including ASRock, ASUS, Gigabyte, and MSI. The new X399 platform chipsets offer dedicated PCIe lanes for USB, graphics, data and other I/O, providing a powerful, scalable, and reliable computing experience and bringing the benefit of future-ready technologies.
*Participating vendor list subject to change without notice
Additional Information:
60% Core count based on AMD Threadripper vs existing i9 7900X which is existing highest core count HEDT. It is a 10-core part. The Ryzen Threadripper 1950X processor is a 16 core CPU.
Testing by AMD Performance labs as of February 10, 2017. PC manufacturers may vary configurations yielding different results. System Configurations: AMD Ryzen™ 7 1800X: Myrtle AM4, Ryzen™ 7 1800X processor, with NVIDIA TITAN X (Pascal) 12GB graphics adapter, 16GB (2 x 8GB) DDR4-2400 RAM, Windows 10 RS2operating system, Graphics driver 21.21.13.7633 :: 12/11/2016. Cinebench R15 nT is used to simulate multi-threaded CPU performance; the AMD Ryzen™ 7 1800X scored 1601.43, while the Intel Core i7-6900K Extreme scored 1473.79 for a benchmark score comparison of 1601.43/1473.79 = 1.09× or 9% more. RZN-9​