(Auszug aus der Pressemitteilung)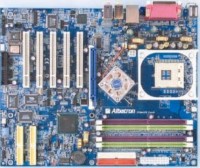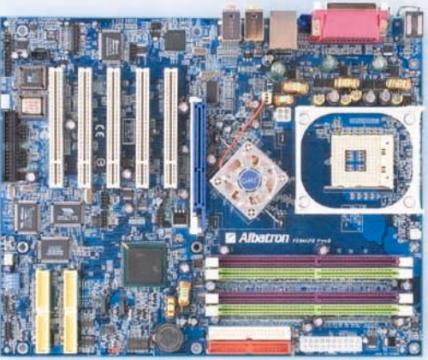 Albatron Technology Ltd., Co., a manufacturer of mainboards, VGA cards and monitors, is one of the first out of blocks with its FSB 1.2 GHz (overclock) ultra performance PX865PE Pro II mainboard which is based on Intel's latest 865PE chipset. Although official Intel specs for this chipset has the default FSB set at 800 MHz, this board is capable of employing Albatron's trademark overclocking technology to boost its FSB up to 1.2 GHz increasing performance up to 50%.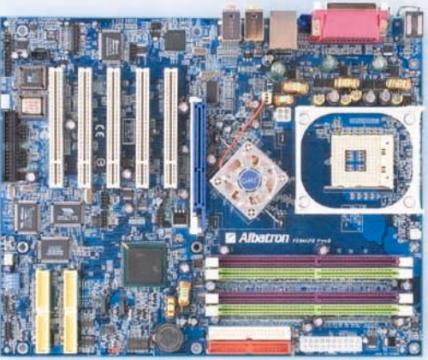 This latest mainboard also supports Intel's Hyper-threading technology which simulates the processing power of 2 CPUs. In addition, this board features Dual Channel DDR400 which doubles the normal DDR400 throughput reaching rates of up to 6.4 GB/s. These technological breakthroughs along with the 1.2 GHz FSB push PC performance to rival Workstation Level 875 Chipset technology. Albatron has also taken great care in tackling stability issues at high speeds by employing powerful copper fans for maximum heat dissipation. The board also uses Fujitsu's aluminum solid capacitors with conductive polymer for ensuring the lowest ESR to stabilize overclocked CPU voltages.
This mainboard is also equipped with the latest technology to ensure maximum multimedia capabilities. AGP 8X support allows your AGP 8X graphics card to tackle the most complex 3D graphics ensuring fluid non-stop action for all of your games and other graphics based software. A VIA VT1720 audio chip has also been engineered into this board providing 8 channel audio capability allowing you to enjoy professional studio quality audio without having to purchase a specialized audio card.
The PX865PE Pro II also has built-in Gbits LAN, two IEEE1394 (firewire) connectors, 8 USB 2.0 ports, and 5 PCI slots. There are four 184-pin DIMM slots with a total memory capacity of up to 4 GB. An SATA RAID 0 connector and two ATA-133 RAID 0,1 connectors provide efficient, sophisticated hard disk management. Voice Genie and Bios Mirror also are included and provide the latest in boot diagnostics and BIOS security respectively.
The PX865PE Pro II gears up with the highest performing and most sophisticated components available and contains all the ingredients needed to surge to the head of the pack. Albatron has big plans for the PX865PE Pro II and has pulled out all the stops to build a super board with unrivaled performance and power.