(Auszug aus der Pressemitteilung)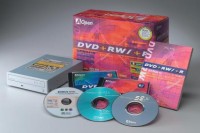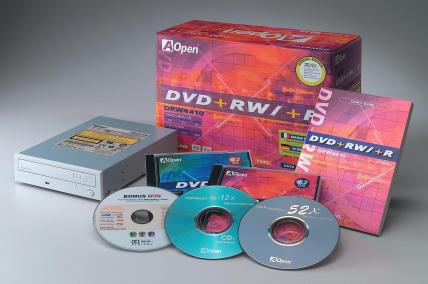 AOpen launches its 4×4 DVD burner, the DRW4410. Allowing to burn as much as 4.7 GB of data on a disc, DVD burners opened the doors to storage capacity heaven late 2001: end-users could now easily store their PC's backup data, or record and copy entire (home) movies onto on a disc. Below please find listed the features of the AOpen 4x DVD burner, one of the fastest DVD burners on the market!
Living up to its reputation as a designing and manufacturing company of outstanding optical drives, AOpen went one step further than most of its competitors by not only giving the drive a 4x RW, but also a 4x R speed. Be honest: why settle for a normal car if you can have a 4 wheel drive… The DRW4410 also foresees in other needs – the improved anti-heat design, for instance, renders a cooling fan redundant. And then there is of course the Just-Link technology that ensures accurate data duplication by excluding the possibility of buffer-under-run errors.
FEATURES DRW4410
Interface: ATAPI/E-IDE
Speed: 4x DVD+RW, 4x DVD+R, 8x DVD-ROM, 24x CD-R, 10x CD-RW, 40xCD-ROM,
Data buffer memory: 2MB
Average access time: CD: 120ms; DVD 140ms
Supported formats: CD-Audio, CD-DA, DVD-R (read, play*), CD-ROM, CD-ROM XA, CD-R, CD-RW, CD-I, Photo-CD, Video CD, CD Extra, CD-G (read), CD Text, DVD+RW/+R, DVD-RW (read, play), DVD-ROM (read), DVD-Video (play)
* play meaning audio playback
Weight: less than 1.2 kg
Dimensions: Width 145.6mm, Height 41.6mm, Depth 191.4mm
The DRW4410 comes with an S/W Disc containing everything you need to enjoy video/audio manipulations and to burn contents onto CD/DVD:
Acrobat Reader 5.1 lets you view, navigate and print Portable Document Format (PDF) files.
Adobe Photoshop Album Starter Edition is an evaluation software product that allows you to import and maintain a combination limit of 250 photos, audio files, video clips and Photoshop Album creations in a single catalog within the application at any one time. The product is fully functional in every other capacity.
NeoDVD 4.5 standard:
The fastest and easiest way to turn your home movies and old VHS tapes into DVD, use your home PC like a VCR to create and even update your own DVD Video. Video in, DVD out-it's that simple!
Nero InCD InCD is a program with which you can format rewritable CDs/DVDs (CD-RW, DVD+RW and DVD+R) in such a way that they can be used as hard disk or diskettes. This means that you can save files from any application onto the CD-RW/-R or DVD+RW/+R directly or fully utilize the drag-and drop feature of Windows Explorer.
Nero Burning Rom
Using Nero, you can write on all regular types of CDs and DVDs.
NeroMediaPlayer
With NeroMediaPlayer you can also reproduce audio data. This may be data from a CD, from a hard disk, directly from the Internet or from externally connected devices.
Nero Cover Designer is a user-friendly program for individually compiling and editing CD covers. It helps you to professionally edit the various elements of a CD cover quickly and easily.
Nero Wave Editor is a program for editing and recording audio files. Individual audio files can be created quickly and easily by means of the different filters and sound optimization methods.
PowerDVD XP 4.0:
Watch DVDs on your PC or on the go, enjoy high-quality video and media-rich DVD contents on your PC or laptop, including a Virtual Surround experience with any standard pair of stereo headphones.
VideoStudio 7:
Ulead VideoStudio is a consumer video editing software that lets users quickly and easily produce their own home videos complete with attractive titles, video filters, transitions, and sound. Unlike other software, Ulead VideoStudio features an intuitive step-based interface that helps users get started right away. By following the steps, you will be creating video masterpieces before you know it. Once you have completed your video projects, you can share them on tape, e-mail, the Web or burn your own high-quality VCDs, SVCDs and DVDs.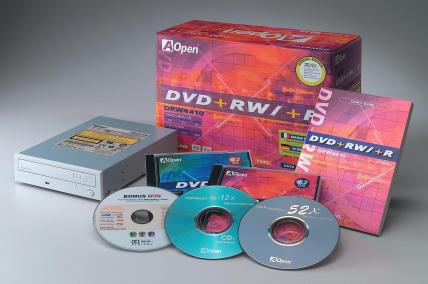 Die unverbindlich vorgeschlagene Preisempfehlung für den DRW4410 beträgt 199,00 €.
Der DRW4410 ist ab August in Deutschland erhältlich.