(Auszug aus der Pressemitteilung)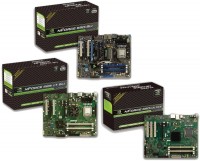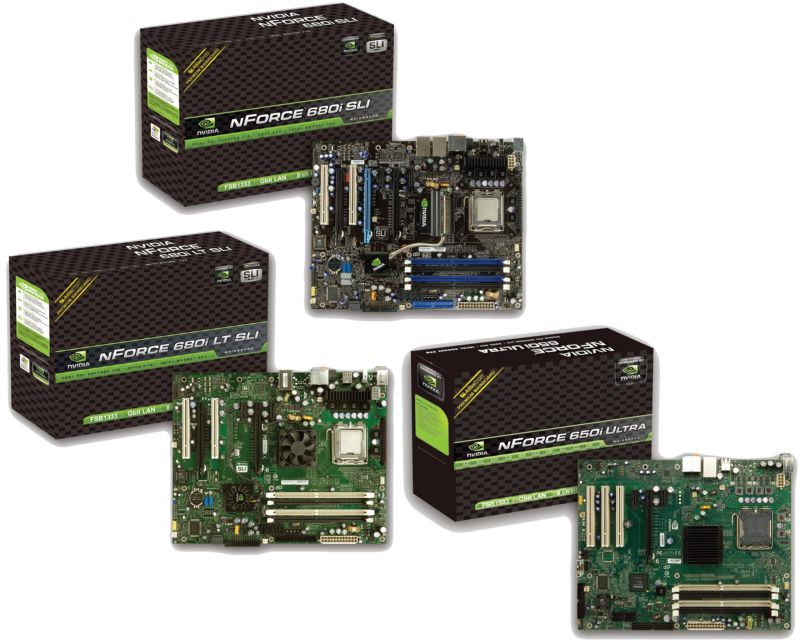 May 4, 2007 – Albatron Technology has announced the 680i SLI, 680i LT SLI and 650i Ultra Mainboards as part of a joint project with chipset giant NVIDIA to deliver a new generation of performance-class boards spanning all market segments: Enthusiast, Mainstream and Entry Level. These Mainboards, boasting new technologies, are based wholly on NVIDIA designs that take advantage of NVIDIA's expertise in chipset and graphics technology. Albatron was one of only a few select companies that were chosen by NVIDIA for its strong branding and deep marketing channels. Albatron, an NVIDIA "Authorized Board Partner", has high expectations that market segments already familiar with NVIDIA technology will help to spur sales activity especially in the European sector where Albatron has already established a significant customer base.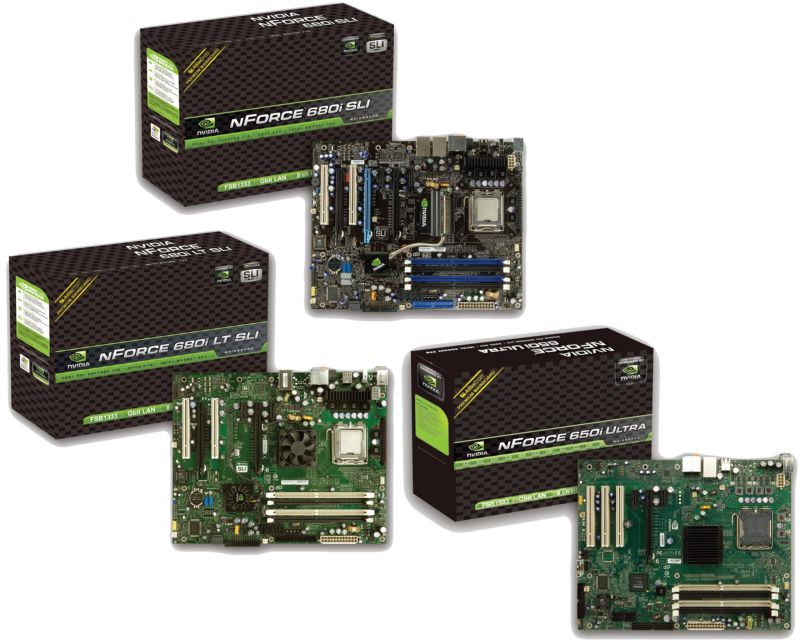 680i SLI – Performance gaming board in a class by itself
The 680i SLI Mainboard enters the market with big expectations of being a high precision SLI Mainboard that is detailed and streamlined for enthusiast graphics and gaming. The 680i SLI uses the powerful nForce 680i SLI chipset and is capable of taking on Intel's top CPUs including the Core 2 Quad, Core 2 Duo, Core 2 Extreme as well as future multi-core processors (4+ cores). Furthermore, the 680i SLI boasts FSB speeds of 1333 MHz and is geared up for ultra-extreme graphics with three available PCIe x16 slots. Yes, that's three slots for three graphics cards! Two of the slots can be used for SLI dual PCIe x16 VGA configuration and a 3rd slot for another graphics card that can be used as an additional output source or provide another GPU to assist in complex graphical physics calculations.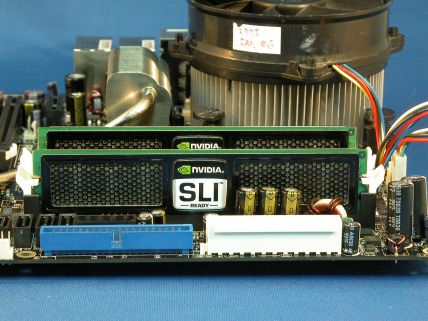 EPP increases Dual-Channel memory performance from 800 MHz to 1200 MHz!
The 680i SLI also supports the latest dual-channel DDR II memory specification called EPP (Enhanced Performance Profiles) that can increase memory performance significantly. Memory modules supporting this EPP design will be designated as "SLI Ready" (no relationship to SLI dual VGA graphics). These modules (only when used in Dual Channel mode) are optimized with the board to reach amazing speeds of 1200 MHz from standard Dual Channel DDR II 800 MHz speeds. If you choose to use these "SLI Ready" memory modules, synchronization with ever increasing FSB speeds are highly advantageous for memory intensive graphics applications.
Enhanced network performance – LinkBoost, FirstPacket
The 680i SLI also comes with dual Gbit LAN connectors that support a new technology called LinkBoost, designed to increase networking performance efficiency. This technology takes advantage of dual LAN ports, designating one port for input and the other for output. In contrast to a standard LAN port that must manage both input and output, each LinkBoost LAN port can specialize in one-directional transmissions increasing the efficiency of data throughput. LinkBoost also has implemented FirstPacket technology, a new design used to prioritize packet information to be delivered to the network. In online gaming, for instance, data packets containing complex gaming information are given priority over VOIP (Voice Over Internet Protocol) packets which is used by gamers for verbal communications to other team members. Since VOIP packets can interfere with the gaming performance and responsiveness, LinkBoost reduces the rate of VOIP packets in favor of data packets that are delivered to the network.
Superior heat dissipation design for NB/SB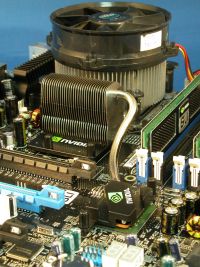 The designers of the 680i SLI have also put considerable effort into cooling the Northbridge/Southbridge chipsets. Heatpipe technology is employed to wick heat from the Southbridge to the Northbridge where an array of metal fins efficiently dissipate the heat. The metal fins sit adjacent to the CPU cooling fan and are able to take advantage of the blast of air circulated from the fan.
Full connectivity and multimedia support!
The 680i SLI is stacked with connectors and storage devices to enhance gaming and multimedia. It provides six SATA II channels with RAID 0,1, 0+1,5 (with RAID morphing). Also included are ten available USB 2.0 ports, one IEEE 1394 port, SPDIF Out, 8 Channel HD Audio, and Marvell LAN (Dual Gbit). Also included are two PCIe x1 slots that can be used for various TV-cards, Security Systems and SAS (Serial Attached SCSI). This board also is amenable to previous generations of storage and expansion cards providing two PATA connectors and two standard PCI slots.
680i LT SLI and 650i Ultra – Performance Mainboards for all market segments
Albatron/NVIDIA has also come out with the 680i LT SLI and 650i Ultra Mainboards for the mainstream and entry level segments. However, there is no compromise on performance as these boards also support Intel's Core 2 Extreme and Core 2 Quad processors and boasts FSB speeds of 1333 MHz. The chart below gives a quick comparison of the three boards.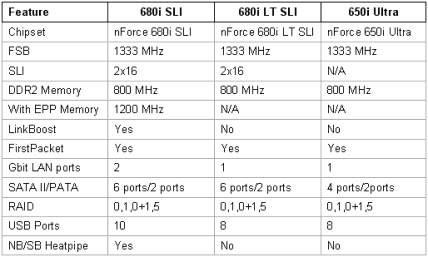 Albatron/NVIDIA Mainboards Deliver
There is no question that NVIDIA connotes superb quality, high precision and unmatched performance for their chipset and graphics technologies. With the 680i SLI, 680i LT SLI, and the 650i Ultra, Albatron teams up with this chipset giant to unleash a new generation of performance boards for all segments of the market.