(Auszug aus der Pressemitteilung)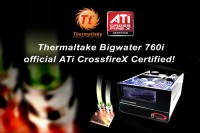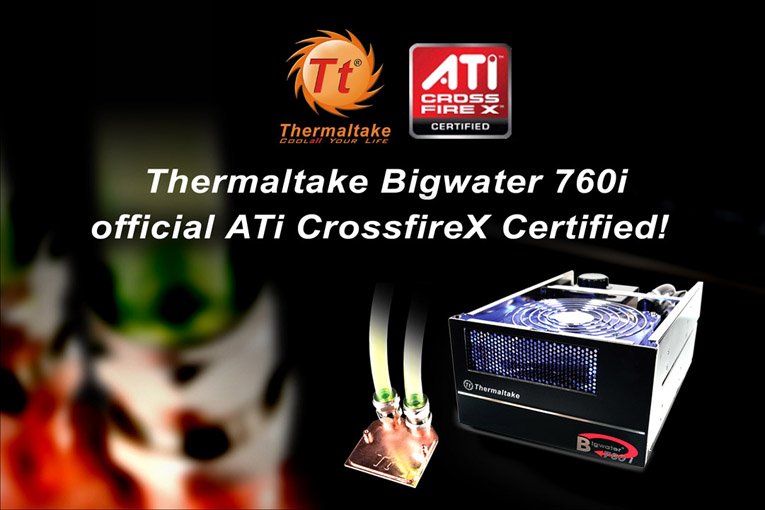 February,2008 – Thermaltake Technology, the worlds leading manufacturer of high-end PC cooling systems, is proud to announce the official ATi CrossfireX certification of its Bigwater 760i, the new generation 2U Bay liquid cooling system!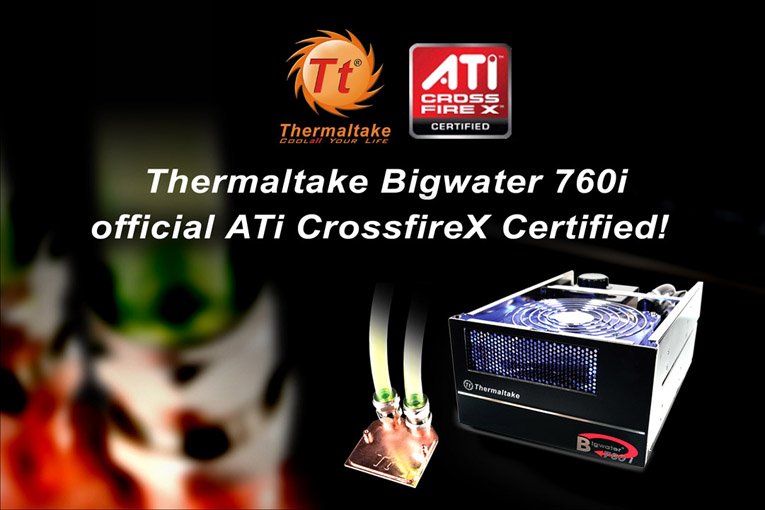 Bigwater 760i is the new generation drive bay liquid cooling system, consisted of an all inclusive drive bay unit and intelligent interconnecting water block for effortless installation. Ultra quiet pump, 12CM blue LED fan and water reservoir are all strategically positioned inside the drive bay unit to achieve maximum performance and extreme space saving at the same time!
Moreover, the slim waterblock was developed with Redundant Micro Channel Design that effectively divides water flow into micro channels to accelerate heat transfer. In the meantime, the P500 pump pushes 500L/H of water to improve the overall cooling efficiency and performance level; and the Dimple Tube Technology of the radiator increases the turbulence within the radiator to enlarge the coolant contact surface and extend the time coolant stay in the radiator to perform maximum cooling action. Despite the space saving and cooling performance, the intelligent interconnector of Bigwater 760i was designed with built-in automatic shut-off valves to prevent accidental water leakage during assembly and dismounting process.
The introduction of this new drive bay liquid cooling system from Thermaltake has not only solved many liquid cooling players nightmare, but also has it truly taken liquid cooling technology to a brand new era. With ATi CrossfireX Certification, Thermaltake Bigwater 760i drive bay liquid cooling will be satisfying more extreme players worldwide!