(Auszug aus der Pressemitteilung)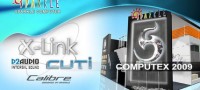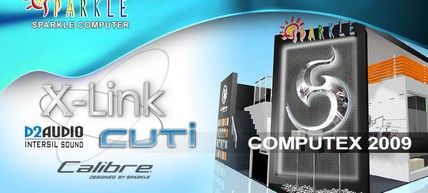 Taipei, Taiwan –May 27, 2009 – SPARKLE Computer Co., Ltd., a professional VGA card manufacturer and supplier, today announced that it will enter new digital era, showing its cutting-edge technology with three innovative products that breaks new groud into frontier of computing at Computex 2009. Visitors will be treated to a dazzling display of innovative products that included the audio amplifier products will delivers an immersive audio experience with worlds only intelligent digital audio amplifier, the SPARKLE X-Link products will provide more convenience to users who need multi-monitors to work with, the Calibre IDF (Intelligent Dual Fly) Fly Cooling System providing an ultimate graphics cards cooling solution,the Calibre Cuti based on Intel Atom CPU and NVIDIA ION platform will provides incredible 3D rendering and HD decoding power to users who seek smaller and lower power consumption PC product.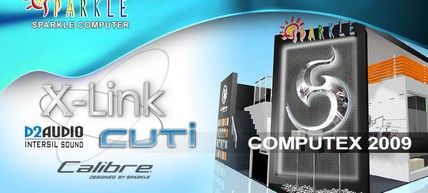 SPARKLE Audio Amplifier
Always seeking the pinnacle of perfection in technology and providing users with top-notch products and user convenience, SPARKLE R&D team has constantly pushed forward in terms of technological advances. The result is the innovative and intuitive SPARKLE Audio Amplifier. SPARKLE Audio Amplifier is PCIE x1 add-in card with 4-pin power connector. It uses HDA Cable to connect to motherboards. SPARKLE Audio Amplifier uses D2Audio which is the world's only Intelligent Digital Amplifier chip. The inside Digital Audio Engine delivers an immersive audio experience with incredible flexibility. Its unique intelligence actively "listens" with the world's only all-digital feedback technology to optimize the amplifier's sound. SPARKLE Audio Amplifier has been specifically designed for use in HTPC with Dolby,SRS and 5.1 channel support, to meet the rigorous demand from HTPC Hi-Fi enthusiasts.
SPARKLE X-Link
SPARKLE X-Link is an external DVI multi monitor video adapter. It's the perfect solution for turning an available USB 2.0 into a DVI interface – providing high quality, dual display or multi-monitor capability that can be used in a variety of laptop or desktop applications. SPARKLE X-Link is capable of running up to six additional displays from one computer simultaneously (using USB Hub). SPARKLE X-Link connects to a host computer through a USB 2.0 port, acting as an external DVI video card that can be used to extend or mirror the desktop shown on the existing display, allowing one to connect any monitor with a resolution up to 1600 x 1200 via USB – without having to open the computer case. Besides, the DVI side of SPARKLE X-Link can also be connect with DVI-HDMI adapter with HDMI support. SPARKLE X-Link supports multi-OS, such as Windows XP/Windows Vista/Mac OS.
Calibre IDF (Intelligent Dual Fly) Cooling System
The Calibre IDF Dual Fly Cooling System provide an ultimate graphics cards cooling solution for Graphics Cards users who seek higher graphics performance and lower working temperatures. The Calibre IDF Dual Fly Cooling System consists of copper or Copper-aluminum combination die-casting thermal base, high-efficient heat pipes and dual cooling fans with 0.2 mm thin cooling fins. It can get the most heat exchange area in a limited space, guarantee a highly efficient cooling effect. Thanks to the motor inside, the cooling fans of the Calibre IDF Dual Fly Cooling System can be adjusted aslant automatically according to the pre-set FLY mode button on the GBOX which is connected to the cooling system, so not only MOS circuit on the PCB can be cooled efficiently, the whole cooling efficiency can be raised too.
Calibre Cuti
Calibre Cuti is a household appliance, which is surprisingly affordable, space-saving that will capably serve everyday multimedia computing needs in living room with ease. Featuring the NVIDIA® ION graphics solution coupled with the low-power Intel Atom processor, Calibre Cuti perfectly balances extreme value with multimedia functionality. Calibre Cuti was designed to perform as an ideal infotainment solution for streaming HD movies, TV shows, music and other online media to the living room. Its compact design and HDMI interface make it a perfect fit in the living room, where consumers can connect it to a big screen TV for enjoying digital media or casual games with family and friends. Calibre Cuti is an infotainment center in the living room, bringing undeniable outstanding value to family members.