(Auszug aus der Pressemitteilung)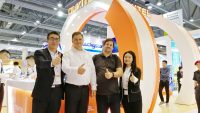 HongKong-October 18th, World's largest mobile electronics trade fair-Global Sources Electronics Exhibition is held in AsiaWorld-Expo. More than 2700 exhibitors from more than 100 countries were attracted to join this exhibition. As a leading online smartphone brand in China, OUKITEL participated in this big exhibition as manufacturer for the 6th time. This time OUKITEL brought 20 mobile phones to the fair, among them 5 are with "BIG"full screen.
The most popular one should be OUKITEL C8, as it is the first entry level full displayed star product and is offering super low price. Many buyers were interested in C8 and asked about its 4G version since C8 is a 3G device. Yes, OUKITEL has prepared 4G version C8 Pro with exactly same 18:9 full displayed design, same camera resolution and fingerprint sensor, same flash memory and battery, same 5 fashionable colors, but just different 4G chipset. Of course, C8 Pro will be sold at surprising waller-friendly price.
The second pair is OUKITEL K5000 and K5. Though no information of K5 was leaked before, OUKITEL has brought this device as a planned model. Both K5000 and K5 are 5.7 inch HD+ full displayed, combining big display big battery to small and slim body.
The fifth one is OUKITEL MIX 2. Xiaomi MIX 2 style front but unique battery cover. Not only large screen, but also large 6GB RAM and 64GB ROM, together with Helio P25 Soc, attracting many buyers.
Except for the 5 full display smartphones, there were other surprising smartphone too. In "K" series, OUKITEL just announced the most durable battery smartphone K8000 which is the second largest battery smartphone. It gets 5.5 inch Samsung AMOLED display which is self-luminous, thus saving much power. And the 8000mAh battery will support more than 5 days use too. As the world's largest battery smartphone, K10000 Pro joined the family as a marker. While K10000 MAX combines the world's largest 10000mAh battery with IP68 grade waterproof. This time it was swimming in the tank again.
Regarding the best seller in "K"series of OUKITEL, we will think of K6000 Plus and K3. One with 6080mAh battery and one with 6000mAh, but both got 5.5 inch FHD display,4GB RAM and 64GB ROM, MT6750T octa-core processor. Fashionable design and appropriate configurations, together with wallet-friendly price, making them hot seller this year.
In the "U"series, most joined smartphones are old models, but all of them have been hot sellers in re-seller stores. The first dual-lens rear camera smartphone U20 Plus, first double dual-lens rear camera smartphone U22, elegant beauty smartphone U7 Max and U7 Plus, though old models, but have been moving on for this long time.
In the entry level "C" series, OUKITEL brought not only the latest hot C8 and coming C8 pro, but also the first half year hot seller C5 and C5 Pro. Another pair is C6 and C6 Pro, though not sold on online stores, but have been loved by off-line distributors. In the following months, OUKITEL will also produce another entry level smartphone C9, but unsure whether it will be sold on online stores or not.
When OUKITEL started the K10000 MAX, we can tell that OUKITEL is starting a new series which focus on tri-proof smartphones. This time OUKITEL brought the mock up of the new tri-proof smartphone-OK5000. It will combine large battery, large memory with real IP68 Grade features.
All the above 20 smartphones were displayed at OUKITEL booth NO. 5D02 in AsiaWorld-Expo 5th floor. More live photos for OUKITEL at Global Sources HongKong Fair will be alive on OUKITEL official facebook page.