(Auszug aus der Pressemitteilung)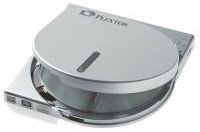 Brussels, 22nd of August 2006 – Plextor today announces its new shape ultra-portable DVD writer – the smallest available in the world. Measuring just 15.9mm high and weighing 250g, the pocket-sized PX-608CU is ideal for mobile laptop users and those requiring a modern, stylish and compact unit to use anywhere.
PX-608CU: BUS-powered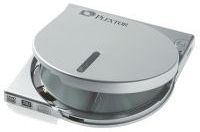 The newly-designed clamshell chassis is the latest innovation from Plextor and not only provides a highly portable ergonomic unit for improved ease of use, but it also incorporates high reliability and durability for long term operation.
It is USB 2.0 bus-powered for both maximum convenience and true plug-and-play usability (no need for an external power supply) – very handy for the mobile executive to burn CDs and DVDs on the move, or for home users to burn and back-up important data from multiple computers.
The slimline drive measures 137.1mm wide, 143.1mm deep and 15.9mm high. It weighs just 250g. The high performance PX-608CU is not only compact, but it offers double layer DVD+/- writing, multi-format DVD+/-/RAM capability and high-speed USB 2.0 data transfer. It is capable of the following DVD speeds: 4x DVD+/-R DL; 8x DVD+/-R; 8x DVD+RW; 6x DVD-RW and 5x DVD-RAM. It also features lower power consumption, for example just 4.8 Watt during DVD-R 8x writing, and includes tilt adjustment – a new technology in OPU design.
PX-608AL: Slot-loading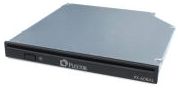 Separately, Plextor is also announcing its slot-loading PX-608AL version which is designed to be built internally into laptops. Ideal for system builders and enthusiast home users, the new units offer the same features and high reliability as the new PX-608CU and the existing PX-608U portable drives, all housed within a laptop chassis.
Rudy de Meirsman, Sales & Marketing Manager of Plextor Europe, says: "The PX-608CU is the new king of ultra portable DVD writers, until portable Blu-ray units are developed, yet it is not much bigger than the discs themselves. Our new clamshell design looks great and performs even better with Plextor reliability built-in as standard. In addition, it is an ideal complement to our existing range of optical and hard disk storage drives."
Availability and warranty
The Plextor PX-608CU and PX-608AL will be available from October 2006 at Plextor's network of dealers. They are both covered by Plextor's Fast Warranty Service (2-year warranty in the EU, Norway and Switzerland (Collect & Return); other countries 1-year carry-in).
A comprehensive range of full and trial software is included.